Homemakers Face Serious Retirement Risks
October 2017: Vol 40 No 10
How credit unions can help members and employees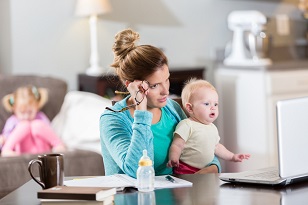 Four of five American homemakers are women, and they are less confident than Americans who work outside the home that they'll be able to be financially comfortable in retirement, according to the report, "Homemakers are Not Off the Hook: How Should They Be Planning for Retirement?".

The Aegon Center for Longevity and Retirement released the report in 2015, in collaboration with the Transamerica Center for Retirement Studies.

Serving homemakers' retirement savings needs probably isn't a priority for most financial institutions, but it's a perfect fit for family-friendly credit unions.
 
"It is a myth that only workers retire," Catherine Collinson, executive director of ACLR and president of TCRS writes in the report. "Homemakers also need to plan and prepare for financial security in old age. For everyone, and especially homemakers, a separation, divorce or loss of a spouse or partner can be devastating both emotionally and financially."

Forty-eight percent of homemakers surveyed said they are not confident they will be able to retire in a lifestyle they would describe as comfortable, compared with 42 percent of respondents who work outside the home.

One reason some homemakers lack confidence about their retirement income could be that 46 percent of homemakers "don't know" if they are on course to achieve the retirement income they think they will need.

"In devoting their time to unpaid work, homemakers financially rely on their spouses or partners, a reliance that they expect to continue through retirement, a reliance that comes with risks," Collinson said in a news release. "However, homemakers are not off of the hook for their future retirement. Getting into the habit of saving, even if it's just a little bit, along with careful planning, may help homemakers improve their long-term prospects."

TCRS offers two recommendations that credit unions can promote to their members who are homemakers, and two recommendations credit unions can follow as employers:

1. Homemakers: Become personally involved in your family finances ranging from daily budgeting to long-term planning. Working with your spouse or partner, calculate retirement savings needs and develop a financial plan for achieving those needs. As part of that plan, be sure to have a backup plan for unforeseen circumstances such as separation, divorce or loss of a partner. Consider seeking the expertise of a professional financial advisor.

2. Homemakers: Consider working part time to reduce future retirement risks. Part-time work brings income and greater access to government and employer retirement benefits. Staying in the work force can also help keep job skills current and make it easier to find higher-paying and/or full-time work, if needed.

3. Employers: Offer flexible work arrangements. Consider creating positions that allow people to work part time and balance their household responsibilities.

4. Employers: Extend benefits to part-time workers. Consider offering health and welfare benefits, including retirement benefits, to part-time workers and contract employees.
Jennifer Norr is VP/marketing and strategy at CUESolutions provider CUNA Mutual Retirement Solutions. Reach her at Jennifer.norr@cunamutual.com.