A Small CU With a Very Cool Website
November 2017: Vol 40 No 11
Don't be afraid to be a disruptor, this CUES member CEO advises.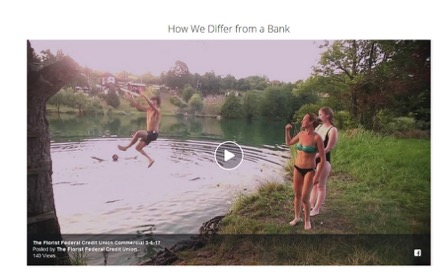 Every year, the folks over at The Financial Brand publish a list of the top financial institution websites around the world. We at CU Service Network look forward to their listing all year because they showcase such beautiful and original websites, shattering the concept that banking is boring and dull. We also enjoy keeping up-to-date on industry trends and branding because it helps us serve our clients.

Back in August, I was browsing the most recent update, 20 Visually Stunning Website Designs From Banks & Credit Unions, and did a double take. My eyes weren't playing tricks on me: $10 million, five-employee The Florist Federal Credit Union was listed. (Don't just read this article. Be sure to visit The Florist FCU's website!)
I wasn't the only one that was shocked. CUES member Cisco Malpartida Smith, CEO of The Florist FCU, was as well. "I had no idea," he says.
"My first reaction was, 'We couldn't possibly be on a list like this. How does it even logically make sense?' Smith adds, laughing. "It's very humbling."
Smith is relatively new to The Florist FCU, headquartered in Roswell, N.M. He became CEO in December 2016 and has had a unique journey. He previously was CSO of GTE Financial, a multi-billion-dollar institution in Florida. After many years at large shops, Smith felt compelled to shift to the other end of the spectrum and go to a small, niche credit union. Talk about a change. 
Smith has big plans for the small but very unique credit union, which serves the floral industry across the United States and has members from coast to coast. Not one of the CU's board members resides near the actual brick-and-mortar credit union. 
So, how did such a small credit union design a website that ranks with international powerhouses? 
"It's because we are able to be a lot more nimble," Smith says. "We can be scrappy and bold. We launched our new website and online banking in 60 days. Our online banking platform is extremely close to the robustness of a Bank of America," Smith says. The CU worked with Narmi on the project. 
A key element in the success of the website stems (no pun intended) from the brand. The Florist FCU isn't trying to be something it is not. This shows in the website, which is simple, clean, loads fast and—most importantly—represents the credit union's membership. "People want to pull out a credit card that has a logo on it of something important to them, whether it's a community, school, industry," says Smith. The membership is the brand.
"We were only relying on word of mouth before I started, and I had a different perspective. The Florist FCU has a fantastic charter," he adds. "What would it take for us to be a major presence? It was without question that we had to embrace marketing. We are capable of branding ourselves to look 'equal' to a ubiquitous national bank."
Some credit unions, especially small ones, have a hard time justifying spending money on a beautifully designed, fully functional website, when they are simply trying to "survive." 
"I know small credit unions have the ideology of 'Keep your costs down, count your paperclips, and provide as much service as you can.' There's a fear of taking a risk and spending the money," Smith says, … but that's effectively what we are in the business of doing: managing risk. We can have an 'Uber-like' effect of disruption on the industry. We need to be more prepared for it and embrace it." 
Are Smith's marketing efforts are paying off? "With those incremental improvements, there has been a massive increase in membership enrollment, deposits and growth potential. We have to start hiring more people we are growing so much." As of August, the CU's asset size was up 25 percent (to $10.2 million) over its size ($7.9 million) when Smith started less than a year prior.
Coming from a background in very large financial institutions, Smith says he is motivated by the opportunity to help other small credit unions see how they can be progressive, innovative, motivated and competitive in ways they haven't imagined before.
"Surviving is not sufficient for small and even mid-sized credit unions," he adds. "You have to reinvent yourself. Credit unions are in a growth era. If you are holding back, you may be unintentionally putting your credit union in position where you don't have many options moving forward."
Alicia DiSantis is the marketing program manager at CU Service Network, a Denver-based CUSO specializing in back office solutions. She is passionate about graphic design, branding and the showcasing the power of credit unions. CU Service Network is a CO-OP Financial Services redistributor in New Mexico, and The Florist FCU is a shared branching issuer.