Your Digital Branch 
September 2017: Vol 40 No 9
Design your website to be a place where business begins.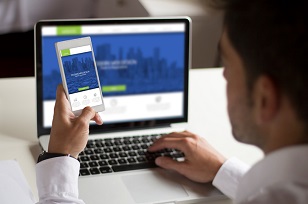 Successful websites have morphed into profitable digital branches, using marketing automation to drive conversions. "Design your site for lead generation, to track buyer behavior," suggests James Robert Lay, founder and CEO of Digital Growth Institute, Houston. "Don't make it a glorified brochure. Instead, use relevant content for greater conversions. Examine product position; don't focus solely on features but think how the consumer thinks and buys. Beware of cognitive overload as well; replace heavy text with bullets or graphics." 
And consider your website as a place where business begins. 
"This is such a crucial point to grasp," says Alexander Kesler founder and president of inSegment, Inc., Boston. "CUs can be all over the place when it comes to website design. For success, focus on the basics: design your site with proper SEO and keywords. Understand how to position your site within the competitive landscape. How will it drive traffic in your service area? How will you convert this traffic into sales?" Optimizing your site should also increase your existing members' share-of-wallet more effectively than any physical branch. 
Consider how $1.5 billion Workers Credit Union, Fitchburg, Mass., used optimization to improve its digital strategy: "Aligning the CU's website and digital channels, and with an optimized strategy across social, paid and organic search engines, we improved results across the CU's entire digital ecosystem," says Kesler. "The focus combined overall branding with product-specific campaigns while landing pages were optimized for those searching for financial products. Organic traffic increased by 14 percent and (Google) AdWords cost per lead improved 40 percent." 
Finally, make it easy on your member. 
"Why is it so hard to become a member online?" asks advises Jim Pond, a partner at James & Matthew, Boston. "It shouldn't take nine pages of info to get a member's (online) application started." How much of your site is built around gathering information because you want it? What can you strip away to simplify the member experience?" Never make any aspect of the digital relationship difficult, particularly at the beginning. 
Stephanie Schwenn Sebring established and managed the marketing departments for three CUs before launching her business. As owner of Fab Prose & Professional Writing, she assists CUs, industry suppliers and any company wanting great content and a clear brand voice. Follow her on Twitter @fabprose.