CUES Exceptional Leader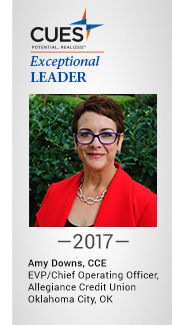 Award Overview
This award acknowledges decision-makers for their ambition, participation, and devotion to their credit union and the movement.
Who is eligible?
Non-chief executive officers who are current CUES members. View the list of past winners.
Nominations
The deadline for nominations has passed. 
Applications
The deadline for applications has passed.  .
2017 Award Video
Where will the award be presented?
The award was presented at CUES' CEO/Executive Team Network™  in Nashville, TN, November 5-7, 2018.
The winner receives
2018 Judges
Don DiMatteo, State Department FCU
Frank Mancini, Connex CU
Brandon Michaels, JSC FCU
Ruth Jenkins, Heritage FCU
Carrie Birkhofer, Bay FCU
Dan McGowan, Pioneer West Virginia FCU
Questions?
Please contact member services at 800.252.2664 or 608.271.2664, ext. 340; or email awards@cues.org.