CUES Outstanding Chief Executive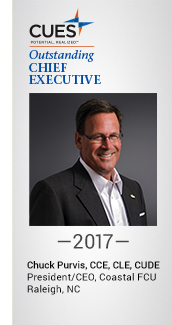 Award Overview
This award recognizes outstanding leaders who display professional achievement, employee motivation, and dedication to the community.
Who is Eligible?
A chief executive officer who is a member of CUES. View the list of past winners.
Nominations
Use the link below to submit your nomination. 
Once you have submitted your nomination, you can use the "Application" button to download the formal application. Or, you can use the application that will be emailed to you when we confirm your nomination.
Applications
Use the link below to download the official application form.  Completed applications must be received by no later than Friday, June 15, 2018.  Winner will be notified by CUES in late August.
Where will the Award be Presented?
CUES' CEO/Executive Team Network™ in Nashville, TN, November 5-7, 2018. 
The Winner Receives
Questions?
Please contact member services at 800.252.2664, or 608.271.2664, ext. 340 or email awards@cues.org.
2017 Winner