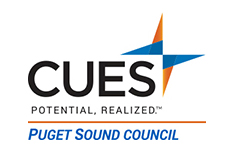 (Washington)
Council Officers Include:
If you are interested in learning more about the CUES Puget Sound Council and becoming a council board member, please contact Brian Cacic.
Upcoming Meetings:
TBD
Past Meetings: /h3>
April 1, 2011: This breakfast meeting was held at 13 Coins Restaurant in North Seattle. Attendees discussed the topic of Beyond the Corporates: Where Do We Go From Here?