What Multicultural Members Want
March 28, 2018
Knowing their unique needs will enable you to better serve your entire membership.
By Eric Hansing
Sponsored by CUNA Mutual Group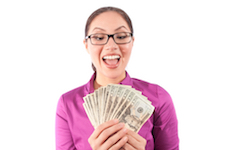 Over the past five years, multicultural consumers have accounted for a staggering 100 percent of U.S. population growth and 61 percent of credit union growth, too, according to December 2017 TruStage data from CUNA Mutual Group! That's some serious buying power that represents a massive business opportunity for your credit union. To better reach and serve this segment, you first need to understand what they want from a financial institution. That's where we can help.
Our report, "What Matters Now: Insights from Multicultural Consumers," contains learnings from our own proprietary quantitative segmentation research as well as detailed qualitative research. From surveying more than 12,000 participants from across the country (with 38 of them completing in-depth online diaries), we found very important differences in what multicultural consumers want from financial services and how they use them. For example, multicultural consumers are more likely to apply for financial accounts and products online or through a mobile app. And, convenience and flexibility are very important to them–even if it means higher rates and fees!
We also found that:
The speed of lending is more important to multicultural consumers than non-Hispanic white consumers.
African-American consumers are twice as likely to take out a student loan.
Hispanic consumers are nine times more likely to take out a small business loan in the next five years.
Well over half (69 percent) of Asian and non-Hispanic white consumers own investment products.
Knowing what multicultural members want will enable you to develop products and deliver services that fulfill their needs. In turn, your credit union can become more relevant to this diverse group, while better serving all members.
Eric Hansing is VP/multicultural strategy for CUES Supplier member CUNA Mutual Group, Madison, Wis. Download "What Matters Now: Insights from Multicultural Consumers."
Also read "Speaking Their Language."
You may also be interested in CUES School of Strategic Marketing I and II in July in Seattle.