360° Marketing
March 2017: Vol. 40 No. 3
Omnichannel delivery strives to delight members across every channel, regardless of the point in time. It's working, but still a work in progress.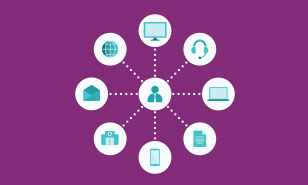 There's no lack of interpretations when it comes to omnichannel marketing. Some consider it similar to or even synonymous with multi- or cross-channel marketing. Others see it as delivering a seamless customer experience regardless of and across all channels.
Understanding the omnichannel experience is as important as the ability to execute it. But don't confuse the means with the end.
What's the goal? "For there to be no difference in the interaction or response to that interaction by channel or device, whether done in-branch, by phone, online or with a mobile device," says Jon Moran, director of product marketing for Earnix, Westport, Conn. "In a perfect world, omnichannel marketing encompasses a consistent offer in every channel, with the customer in control of the experience." The challenge, however, is becoming adept at managing these channels for a seamless transaction.
"The traditional branch, I think we could all agree, is going away," continues Moran. "So it's up to the CU to ensure promotions are taking place consistently and instantaneously across all channels, and that members can move easily across channels—no matter how an offer is made."
Is technology making the process seamless? "Not yet," says Moran, "considering the average CU has one or more systems that are legacy in nature and often hinder infrastructure integration. Furthermore, many are simply too antiquated to meet a CU's changing needs."
Madeline Anderson-Balmer, marketing manager for $520 million MIT Federal Credit Union, Cambridge, Mass., submits that experiences do vary for members and sometimes quite dramatically. "Perhaps you have a web banner that implements a single click for a member to apply for a loan or open an account. That provides a seamless experience. But what happens with your direct mail offer? Does it require the member to go to your website or make a phone call? That isn't seamless. Also, what happens during a branch visit? Branch-to-branch experiences can vary as well."
Providing a consistent experience is the challenge. So, how can you, or any CU, overcome the barriers?
Craft a Plan
Without concrete objectives and a well-planned strategy, no CU can thrive in an omnichannel environment. "The most successful are taking a measured, pragmatic approach to their omnichannel goals," says Ryan Myers, a director at CUES Supplier member and strategic partner Cornerstone Advisors, Inc., Scottsdale, Ariz. "Rather than focusing on a single solution, they're seeking to remove the friction via integration, so data is more readily shared between channels."
Don't be deceived; the answer is not in buying additional software that may or may not communicate with other systems or the core.
"The biggest hurdle is maintaining a seamless experience once a member decides to take action on an offer," says Myers. "Therefore, pinpointing current and future technology needs and determining which applications and resources will meet them is critical."
Myers recommends using a three- to five-year roadmap to define your CU's omnichannel strategy—a plan that envisions how the various systems will co-exist to offer a consistent member experience. "Vet potential vendors to ensure they have the right tools and eliminate those who don't meet future integration needs. Focus on vendors who can fill interim gaps as well as meet long-term goals," says Myers. "It's up to you (the CU) to manage the integration process by pushing vendors to deliver because many won't have enough incentive to do so on their own."
CUs will find value in implementing such product-specific solutions as online account opening tools and customer relationship management systems. But using them effectively is not so simple as plug and play.
"Product-specific solutions are significant because they help you to align technologies with member needs right away," clarifies Myers. "For example, you can acquire a platform that quickly resolves cross-channel needs for loan origination or account opening. The key, however, is to focus on its integration with other critical systems using the same data.
"Online loan application and funding tools have also come a long way in omnichannel maturity, particularly mortgage applications, while online account opening tools continue to make great strides," continues Myers. "Still, don't rely solely on vendor-defined solutions. Set a strategy for implementing multiple vendors; find the right fit for point-specific solutions, and align your resources accordingly."
Data, Insights and Action
More and better data leads to better insights and, in turn, better decisions. It also creates a more relevant omnichannel offer. "Use your technology and data to facilitate the member journey," stresses Moran. "Without it, you can't understand or satisfy your members' complex needs in relation to where they are in the customer journey with your CU."
Consider that your CU may send a mailer for a credit card. The offer may not be relevant (it's too small a credit line compared to the member's wealth); or not customized to the member's needs (not the right type of card); or delivered via the wrong channel (member prefers a digital over direct mail).
"You must first collect and unify these data insights before you can take appropriate action with the member," reiterates Moran. "Employees must also know what to do with the member response and use that data to carry on the dialogue."
Rajesh Patil, VP/financial services and fintech for Helios and Matheson Analytics, Inc., New York, advises his clients to "bring data into a centralized sphere so you can better manage it, and, to institute a single platform to handle the customer experience and workflow." Patil and his company are also partnering with Terafina Inc. (www.terafinainc.com), San Francisco, to deploy an omnichannel strategy specifically for CUs.
Being cognizant of where you collect data and which data you deem most important is another prerequisite to successful omnichannel marketing.
"Data insights garnered from many sources, including your core systems, third-party vendors and various digital applications, should be used to improve your processes and make the overall member experience better," says Moran. "And don't underestimate the importance of data gleaned from social networks or forums, including comments on the branch service experience, phone center and staff responsiveness. These insights are extremely valuable and regrettably, up to 75 percent of CUs may not be using them at all."
The Role of Market Segmentation
Defined market segments—members who share similar attributes—are dependent upon the collection and correct use of data as well. "The more attributes you can use to define a segment, the more accurate that segment and relevant your offer," explains Moran. "Offers become strategic, not tactical. This will also help you ... extend the right offer, in the right channel, at the right time."
"Believing that 'everyone' is your target is not the goal," reminds Anderson-Balmer. "But developing products and promotions targeted to the appropriate audience, and using the right content, will result in higher web click-through rates, stronger engagement and a larger percentage of closed sales." 
The CU serves students, employees and alumni of MIT in addition to other select employer groups. The images and content in a message to MIT alumni might differ from what is sent to students, which would be different still from the messages sent to SEGs.
Congruency, Every Marketer's Dream
Moving toward omnichannel, member experiences must match, both in digital and traditional channels. Brett Wooden, chief retail officer for $160 million Providence Federal Credit Union, Portland, Ore., believes this congruency is feasible only after you review and understand every process in every channel.  
Wooden suggests that if you're just starting out, concentrate on a single product first. "Focus on the processes required to open a savings and checking account, make a deposit or apply for and fund a loan. What do these processes look like? Then examine your other channels. What is the preferred process? Match that process to all channels, preferably in-branch first, so staff can see and understand it."
And watch for details. This includes the number of screens a member sees or steps required to complete an action. Is it more labor-intensive to open an account in-branch than online? Do third-party applications auto-fill across all channels (including in-branch)? Or does the member need to enter additional information via his or her laptop or phone, mail documentation or go into a branch to sign papers?
Also, how do the consequences of an action (intended and unintended) correspond? For example, is there a soft hit on the member's credit when a member completes an application in one channel versus another? Are check holds consistent throughout all channels? Wooden emphasizes that workflows are simply processes, not policies, and it is possible to match these processes cross-channel.
"Staying committed to your brand is also essential," adds Anderson-Balmer. "Frame every communication, whether it's a quick-hit or lengthy landing page, with your unique brand voice so audiences can quickly recognize you among the noise." Some of this can be achieved through templates, giving you the freedom to change offers, imagery and content as needed, internally.
"Providing a cohesive level of service no matter how a member finds you or chooses to interact is the challenge," concludes Anderson-Balmer, "It requires a focused effort and having all employees and systems working together. But with patience and perseverance, it can be achieved."
Stephanie Schwenn Sebring managed the marketing departments for three CUs and served in mentorship roles before launching her business. As owner of Fab Prose & Professional Writing, she assists CUs, industry suppliers, and any company wanting great content and a clear brand voice. Follow her on Twitter @fabprose.