CRM Mistakes
January 2017: Vol. 40 No. 1
Poor planning is number one.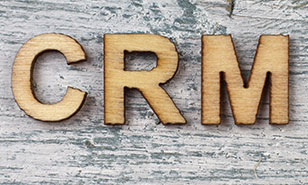 For any company that implements customer relationship management, the goal is to sell more products or services to customers, nurture relationships and boost the bottom line. The financial services world is not excluded.
But has CRM been the silver bullet to unlocking more sales potential? Not yet, or so it seems. As reported by C5insight on LinkedIn, which included studies by Gartner Research, Butler Group and others, CRM projects fail between 30 and 60 percent of the time.
So, if CRM hasn't been the catalyst for increasing sales, why is this so?
The Most Common Reason: Poor Planning
Ryan Myers, a director at CUES Supplier member and strategic provider Cornerstone Advisors Inc., Scottsdale, Ariz., says a lack of planning is the No. 1 mistake CUs make. "Many CRM users, including CUs, have no concept of how the new system will fit into the organization," he explains. "They make a decision to start using a CRM system right away without planning on how it aligns with their overall strategy. No matter the size of your institution, the first step is determining how and why you want to use the system—not only on a broad organizational scale but among departments and individuals."
Developing an internal map is a must before vendor selection. "If you don't, you're more apt to let the vendor drive your strategy," adds Myers. "Only you, as a CU, know what your goals are, what the internal workflow looks like, and how users across the organization should use the system to serve members." Implementing CRM without knowing what these interactions look like can create interruptions in service and be a hindrance rather than a help.
Lack of a Strategic View
"Being strategic in your approach to system selection and implementation leads to greater success with CRM," says Floyd Salamino, VP/consulting for CUES supplier member Marquis, Plano, Texas. "Systems are feature-rich, so it's tempting to try and achieve all that's possible with CRM right away. However, it's important to maintain a sharp focus and concentrate on using the features that will support attainment of your goals and facilitate the sales and service process for your staff." 
A valued CRM partner can help you to focus on what's most important for greater success and to work toward all that's possible. "Think big, but start small," adds Salamino. Like Myers, he agrees that this can only happen once you fully evaluate the sales process and a plan is laid out on how CRM can assist with the process and employee's work queue.
Letting the Decision (and System) Overwhelm You
The CRM vendor landscape is also amazingly large, submits Myers. "And there is a huge variety in vendor partners and what their software is trying to accomplish. It can be overwhelming to view numerous CRM products if you haven't developed a strategy, roadmap and goals first."
"Consider too, that successful CRM is not necessarily about getting the maximum use from the system, but rather optimal performance," says Salamino. "You may not (and probably shouldn't) use all of the functions of your CRM system. Instead, use the features and functions that support your goals."
Not Realizing How CRM Impacts Service
Brett Wooden, chief retail officer for $160-million Providence Federal Credit Union, Portland, Ore., has witnessed CRM implementation from many perspectives: within a large CU environment, as a consultant to other CUs, and in his current role at Providence FCU. "Building out your workflow will help you to see how CRM impacts each department and each employee, individually and together," he submits. "How will CRM impact the call center, branch and mobile channels? Will it reshape, assist or slow down member service?"
Wooden says to think about the number of screens employees use to open an account and how the implementation of a CRM system will affect this number. The goal is to keep the process streamlined for staff and limit the number of applications needed to open or add an account. "This can make or break frontline support, and their adoption of CRM is what will ultimately drive success," says Wooden. "I've seen the C-suite make assumptions and these assumptions can cause the downfall of even the best CRM."
Ultimately, the goal is to create a seamless experience for members. "CRM needs to support cross-functional teamwork in its design," adds Myers. "One department's proposed workflow may be extremely different from another, and stakeholders need to address this during the planning process." When mapping your CU's workflow, it's important to determine who is performing what task, in which workspace, and how these workflows will eventually interact.
Not Developing CRM as a Team
"Think broadly. Who are you going to impact when implementing CRM?" asks Wooden. "If you implement CRM without collaboration, you begin to work in silos, and you can lose the transfer of knowledge, especially if departments are not used to having conversations or their workflow dependent on one another."
He adds that often the business development team is the first to get CRM for sales. Then the CU may seek a separate system for the retail side and, subsequently, the two systems don't talk to each other. "Business development wants to know about their SEGs and may make a quick push for a CRM." But don't be tempted to roll it out on the business development side first, advises Wooden. "You may end up with a different CRM system when it comes time to implement it on the member side."
Employee Resistance
A lack of buy-in and support for CRM within your organization can quickly—or systematically over time—cause a breakdown. "If people are not using the system consistently, referrals and follow-ups will fall through the cracks," explains Salamino. "Staff involvement is crucial, so seek their participation early in the process to create ownership and buy-in." Because employee resistance can contribute to CRM failure, Salamino advises recognizing the individuals who tend to resist change and working with them to strengthen buy-in. Anticipate and manage their resistance, perhaps by including them directly in the selection and implementation process.
CUES member Jackie Buchanan, president/CEO of $2.1 billion Genisys Credit Union, Auburn Hills, Mich., an ardent CRM user, says that a thorough review or "due diligence," must occur before you implement CRM.
"For example, if you have a solid sales culture, then you should know what (CRM) tools you need to enhance it to become more efficient and meet future objectives," she says. "Involve your sales team (including the frontline staff) with the selection and implementation of CRM right from the beginning. Ensure your CRM partner has what you need today, and that they have a proven track record of providing enhancements as well as listening to clients."
Assuming CRM Will Develop a Sales Culture
"I think the old saying, 'you can lead a horse to water, but you can't make it drink,' applies to CRM," continues Buchanan. "You can buy all the CRM technology you want, but until the horse is thirsty, it won't drink. And until you have a solid sales culture brewing, the team won't have a need for CRM, the system won't get used. Just implementing CRM does not create a sales culture. At Genisys, we built our sales culture first. Once we had it built, the team then craved a way to track their sales and looked for ways to increase performance."
A healthy sales culture is imperative to CRM success. "If your staff does not know how to make an offer from their CRM prompts, they may just bypass the step altogether," adds Wooden. "Or if an employee doesn't understand the importance of updating the system after making a sale, there could be duplication. Having an established sales culture in place beforehand is critical to adoption."
Wooden also reminds us that CRM can go wrong if not used the right way. "Use CRM to enhance your sales and service culture and create stronger member relationships. If you don't use it appropriately, consider what happened to Wells Fargo and its lack of sensitivity in executing cross-sales. As a CU, you want to ensure you have the sales culture built to benefit the member, not push unwanted products."
A high-performing sales culture empowers staff and measures individual and group performance. Salamino stresses that your team wants clear expectations, ongoing feedback, and timely coaching and training. And a good CRM system will make that possible.     
Not Giving it Time to Develop
Buchanan says it takes time and patience to get the most out of CRM. "Some CUs may not be patient enough or have unrealistic expectations for their employees—even the ones who have been with them for many years. A CU may also feel that success should follow just because employees now have the right 'tools.' I've seen CUs implement a CRM system thinking it will be the 'be-all-end-all' only for it to become very expensive shelfware."
And don't shortchange yourself on the amount of time needed to implement a system. When executing across the entire CU, Wooden says to allow six months or up to a year and perform 30-, 60- and 90-day assessments along the way.
Biting off Too Much
Trying to do too much with CRM can drain internal resources and cause friction and frustration among staff. "Financial institutions aren't as equipped as other industries for CRM implementation because they're used to relying on point-specific solutions with minimal need to collaborate across functions," explains Myers. "Instead, let objectives drive the CRM you select and features you turn on. Also, roll out the system in controlled phases over several months for the best success."
Wooden adds that if a CU doesn't roll out the system properly or communicate with employees what it is trying to accomplish, failure is more likely. "Poor planning, a lack of communication, and overwhelming your staff can create negative thinking. Instead, ask employees a lot of questions right at the start. Find out their needs and look for potential roadblocks. Every organization is different, but your goals can be common."
He also cautions not to choose a system just because it has a lot of features. "That's why determining needs first is critical. If not, you may end up with a system that doesn't meet your objectives or pay for features you don't need. Knowing what you want and can afford is pivotal to making a sound decision."
Bad Data
A weak data architecture can lead to CRM disappointment as well, and strong data must feed into the system for optimal results. "How accurate is your information and where is it coming from?" asks Myers. "CRM can become a platform to better serve your members, but it can only use the information that's already in your environment. So if you have a lack of data or bad data, results will suffer. A mature data environment is essential."
Not Setting Benchmarks or Monitoring Results
Establishing key performance indicators and benchmarks will help quantify (and prove) results of a well-executed CRM system. "At the C-level, regularly review reports to track KPIs so you can measure how effectively CRM is impacting the attainment of your strategic objectives," recommends Salamino. "Supervisors and managers should also review separate reports to track and measure how employees are using the system.
For example, are employees logging interactions and keeping up with their work queue? Your CRM partner should be able to suggest the appropriate and frequency of reports for review. Examine your expectations and share results with staff."
He adds that there will be no benefit to the system if you don't know the outcome of interactions the system is helping you track. There also won't be any benefit if there's no accountability, feedback and expectations.
"Most employees want to do a good job," offers Salamino. "But they need clear expectations and timely feedback on how they're using the system." Sharing results also helps the employee to see what they do impacts the bigger picture.
Buchanan says that at Genisys CU, giving staff the tools to monitor their sales in real-time has led to CRM success and improved member relationships.
"We don't measure services per household like many CUs," she continues. "Instead, our goal is to ensure we're doing right by the member. We realize this goal by presenting relevant and timely offers to save our members time and money. Through data analytics, staff can determine which products to offer through the various touchpoints. And because of CRM, our frontline team knows exactly which direct mail and email offer a member has received and can reinforce the message."
Expecting a Miracle
Unfortunately, there's no silver bullet for successful CRM implementation, but proper planning can achieve a lot.
"Create the vision of what you want out of the system," says Myers. "Map actual cases of the member journey and see how CRM can be most impactful. Use these examples to start conversations across departments before CRM implementation. Prepare for and fill in the planning gaps. And keep the benchmarks you're aiming for clear and concise. What metrics are you trying to improve? Is it loan growth, enhancing the member experience or something else?"
Then communicate the objectives and results with staff, and continue to reevaluate and revise your plan. Myers is adamant that buy-in and adoption of CRM are critical to success, and executives must be prepared to show their teams how it is helping to achieve their goals.
Stephanie Schwenn Sebring established and managed the marketing departments for three CUs and served in mentorship roles before launching her business. As owner of Fab Prose & Professional Writing, she assists CUs, industry suppliers, and any company wanting great content and a clear brand voice. Follow her on Twitter @fabprose.