Getting the Most From Mobile
November 2015: Vol 38 No 11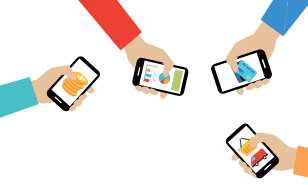 As members increasingly turn to their browsers, smartphones and tablets to do their banking, a new world of opportunity is opening up for credit unions.
The biggest is to leverage mobile to redefine the member experience, such as by providing business banking services via smartphone. At the same time, CUs must ante up by making sure they offer a mobile banking experience that's as good as what members expect from the online banking systems they've used for years.
A second key opportunity for CUs is to use mobile technology to help them better understand what members want and how best to reach them with these services.
Offer Business Mobile
Business mobile is an important example of where mobile banking's potential is still being explored. This arena has been identified as a priority by many CUs undergoing system selections this year. Today most every digital banking vendor on the market has some degree of small business capability. The best vendors offer functionality that comes close to being a full-fledged commercial banking solution, supporting even the most complex member business, including positive pay (which matches the checks a company issues with those it presents for payment in an effort to avoid fraud), account analysis integration (which allows the CU to offer relationship pricing based on the services the business consumes each month) and an interface to support international wires.
Vendors have brought a lot of functionality to market this year, built on the same platform as their retail and mobile offerings, so there is no functional hiccup to members who experience both. In a business mobile system you're considering, look for:
strong access controls. To attract and retain business members, support for hard tokens (a fob that serves up access codes to end users) or soft token (access codes sent to the end user via text message or email) is desirable, in addition to traditional username/password access controls. Date and time check for access gives member businesses the ability to make certain functionality available to their employees or designees (like an accountant) only during business hours. This prevents a fraudulent wire request at 3 a.m. on a Saturday.
step-up authorization. This provides added authentication requirements for high risk transactions, like creating a new wire request to a new recipient, or transactions above a defined dollar amount, say above $25,000.
remote initiation. With this, authorized users can create wires and ACH requests within the mobile application.
remote authorization. This extends the ability to approve and/or release a wire or payroll batch to the mobile device.
full bill-pay functionality.
a single view of the full member relationship. Combining a member's retail and business accounts into a single profile view is something many desire. Access to personal accounts is controlled by user permissions.
CUs face a few challenges as they expand services for business members. First, managing the additional access rights, account and transaction limits, and their relative pricing, will require greater oversight and control. Second, vendor contracts for these new products and services have no historical volumes to use as a basis for price negotiations, which could lead to a CU overpaying for its solution. Third, the mobile banking platform will only extend functionality the core can support. Evaluating the core's business functionality is a prerequisite to adopting any new functionality offered by your digital banking provider.
As examples, core solutions like Fiserv DNA and D+H PhoenixEFE bring capable business product support to their CU clients. Others like Jack Henry Symitar and Fiserv XP2 offer business banking modules that can be employed to service member businesses.
Build on Basics
Even if mobile business banking is on your slate, you must not forget that mobile and tablet banking for regular members are no longer just additive services bolted on to legacy platforms. Instead, today's "mobile first" development strategies convert the point-and-click behavior that every member is comfortable with in the browser to a tap-and-swipe behavior members are equally comfortable with on their mobile devices.
These platforms also leverage the native functionality of devices for usability improvements, such as fingerprint authentication or swipe for balances. Rather than being hindered by small screen sizes, digital banking vendors now take advantage of them, minimizing or hiding menus until members choose to access them with a swipe of a finger.
We've all heard vendors chanting their go-to-market mantras: "Mobile First Development" and "Single Codebase for All Device Types." Vendors like Q2 eBanking, NCR Digital Insight, ACI Worldwide, Alkami Tech and D3 Banking all position themselves this way.
A unified online-and-mobile platform translates to real improvements in digital banking products. Vendors can now offer near functional parity between mobile/tablet banking and the traditional browser-based offering. No longer do members have to enroll in online banking and enable mobile banking. No longer will members have to question why they have to go back to online banking to reset their passwords. Updating contact information, submitting a transaction dispute and accessing e-statements now can be accomplished in mobile banking. Beyond self-service, the real benefits will be felt within money movement capabilities: transfers (internal and external), bill-pay, ACH and wire, which previously were severely limited on the mobile devices—if they were available at all.
Vendors have created a member-friendly experience within payments, enabling wire creation, updating contact information or editing a payee as long as the CU uses the vendor's preferred solution, or is willing to fund the development of deeper integration among solutions. And there's the rub. The CU loses some choice by using the vendor's preferred solution, or increases total cost of ownership with funding the integration. There is nothing better; only time will fix this issue.
Market Using Mobile
Improvements in the marketing capabilities of today's mobile banking solutions should not be underestimated or undervalued. In the past, mobile banking content was limited to a single hypertext link at the top of the page. Now, vendor offerings support banner ads that link to account opening and loan origination software.
This is cause to celebrate, as banner ads are more likely to draw members' attention, which in turn improves the chances they will respond to the ad's call to action. Screen size, though, still dictates ad placement and size alternatives, with tablets able to support the broadest options.
The improvements in size and placement options matter when it comes to online account opening and loan application pull through rates. With application abandon rates between 55 percent and 65 percent, and conversion rates in the low 30 percent range, any improvement in the placement and visibility of the ads helps to increase the number of applications received and, therefore, the number of applications completed. 
As an aside, pressure your online loan application vendors to improve the usability of their applications. Most are built on what is easiest for the processor/underwriter, not what creates the best experience for the member.
Some vendors' latest releases include options that leverage a device's location services. Capabilities include partnerships with companies that provide marketing services using geo-fencing, in which offers/communications are presented to a device when its owner nears a defined location or retailer.
Member engagement is the key here. Some early experiments have used the new capabilities to engage with members who attend a credit union-sponsored event, sending a quick message to thank them for attending, or to remind them that an ATM is nearby should they need it. Credit unions use the responses, positive and negative, from these communications to learn how to improve and, ultimately, add sales-related messaging.
Analytics focused on adoption, penetration and usage have matured to include additional details about the member, the device, and other characteristics of the mobile banking session. These data points provide digital channel managers and marketing teams with insight into member behavior and use of the credit union's products. While improved marketing capabilities help with the placement and format of an offer, improved analytics help determine which offer to present.
The data is available, and combining the data into new metrics is happening now. Models that point to using this data to increase accounts being opened or loans being sold, however, have yet to be proven.
Tim Daley is a director with Cornerstone Advisors Inc., a CUES Supplier member and strategic provider based in Scottsdale, Ariz.