The Martech Explosion
April 2018: Vol 41 No 4
When marketing and technology collide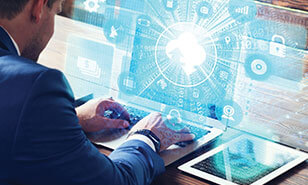 Martech, the merging of marketing and technology, is sweeping through the minds of marketers, growing exponentially fast. So are martech wish lists. What's top-of-mind for your credit union? Are you just starting out or forging ahead for complete automation?
Seven years ago, marketers were traversing roughly 150 marketing technologies. Fast forward to 2018. That number has grown astronomically, more than 3,200 percent, to about 5,000, says James Robert Lay, founder and president of CUES supplier member Digital Growth Institute, Houston. Despite a surfeit of choices, he says most fall into six categories: 1. advertising and promotion, 2. content and experience, 3. social and relationships, 4. commerce and sales, 5. data and 6. management.
"The challenge is not only choosing the right technologies but also having the vision to rebuild the consumer journey using these tools," says Lay. "Tools are needed for lead generation, lead nurturing and management, workflow execution and post-conversion onboarding." Lay believes that for most marketers, automation—technology designed to market across multiple digital channels efficiently and handle repetitive tasks—should be at the top of their wish lists, to provide the ability to unify these activities.
"Automation brings the experience together and closes the gaps, so that you can meet your member at the right time in their sales journey," he adds.
An Evolving Playbook  
Even the most progressive CUs are still in the process of evolving their automation strategies, adds Sam Kilmer, senior director for CUES Supplier member and strategic partner Cornerstone Advisors, Scottsdale, Ariz. They're using tools like Adobe, HubSpot, Marketo and Salesforce. None of which, he notes, are specifically designed for the financial services industry.
Securing the right tools requires recognizing where you are in the sales funnel and technology process, adds Kilmer. How adept is your CU in managing the sales funnel? What are your strengths and weaknesses?  Where are your technology holes? Let the answers to these questions dictate your technology decisions. Kilmer also reminds CUs that every company today is a tech company and must direct its energies to service delivery—not forcing employees to touch the process to make delivery happen.
Steps include:
Lead generation— the capability to capture and analyze data from the web while using search engine optimization and social media to better understand and target members and potential members;
CRM implementation (or other contact management programs) to generate, target and nurture these leads into qualified pipeline opportunities;
Workflow management—analyzing the business processes required for different applications and vendors;  
Content creation—the material for email campaigns, landing pages, social posts and ads—to ensure continuity, personalization, helpful knowledge and interactive engagement in the digital space; and
Marketing automation—the ability to automate tasks and manage leads, tying all processes together for cross-channel integration and engagement—that delivers the right member message and provides analytics on campaign success.
"As marketing automation and service delivery models evolve, everyone in the organization becomes a marketer," stresses Kilmer. "Contact centers are increasingly becoming the hub for the majority of member activity—handling everything from website inquiries, email and outbound leads, social channel communications, as well as phone calls and other traditional transactions—while branches, teller staff and other traditional marketing points are decreasing."
Watching the steps your member takes on your website, combined with other captured data, including transactions, will allow you to serve personalized content to your member, adds Lay. "It may be a unique landing page, social media post or an ad your member sees." Using what he calls the "Digital Growth Engine," Lay says you can target and capture leads, then nurture and convert leads to sales. The goal is to serve the content seamlessly in the sales funnel when your prospect is most interested. A tool like HubSpot can coordinate your web content, data analytics and leads and list management, and serve content and provide campaign results.
The Martech Journey
Surveying 300 credit unions, Lay's Digital Growth Institute found that 75 percent have adopted a CRM system. However, only 26 percent are using it to capture inbound leads. "This is one of the most crucial steps in the journey," he reiterates, "And CUs are missing an opportunity. They're buying the technology but not taking advantage of its capacity. Behaviors and cultures need to change. Marketing automation needs to move beyond Post-it notes and Excel spreadsheets."
Most CUs are in a middle phase of adoption, concurs Kilmer. They've implemented an MCIF or CRM system, but are looking to add the automation with tools like Salesforce, Marketo, Adobe Campaign or Sitecore and tie those processes to origination systems. "Think of a new member opening a share and checking account and applying for a loan simultaneously via their preferred channel. This is the expectation of today's consumer."
"CUs used to be able to paste over the holes in their technology with the attentiveness of their staff," continues Kilmer. "Now, members are on their tablets or smartphones 24/7 and expect immediate 24/7 service delivery."
Closing the Loop
"This is the real case for martech," stresses Lay. "It produces channel optimization, enables you to see the cost per acquisition and substantiate and quantify the value of your marketing. It keeps you in your member's sales journey. Web abandonment rates decline, conversion rates increase. Your member stays on your website, not lost in the sales funnel. You remain part of the contact trends throughout the journey and on hand to close the sale."
Martech also influences how you sell your products and market yourself, offers Kilmer. "While so many of the examples seem to be Amazon, also follow companies like Walmart, Kohl's and Target. They're shifting sales and service to the digital space. Credit unions should observe these trends. And rather than positioning themselves as low-cost providers, they should evolve their digital experience to focus on the value of membership."
How long will the evolution take? Look for a one to three-year martech journey, a highly iterative process of learning, improving and refining, says Kilmer. Today's tech conversations mostly revolve around efficiencies and lower cost, "but they must also address effectiveness and competitiveness—which circles back to the big banks who currently have the edge with their digital offerings.
"Big banks are in a position to tap into more market share with their popular digital products," proposes Kilmer. "Chase, for example, offers an excellent mobile product. And while a typical bank customer may have once dreaded the in-branch experience, they love today's mobile one."
Technology Spend Trends
As a percent of assets, Kilmer has seen the tech-spending median rise 14 percent for CUs over the last two years. The amount marketing invested in online channels, including SEO and digital outreach, was up 106 percent in 2017 from two years prior. "Previously, it was about 5 percent of a marketer's budget. Now it's between 11 and 15 percent. Look for this figure to double every two years," says Kilmer. Spending on offline channels has decreased 13 percent. Still, the amount spent on traditional marketing—like mass media and donations or sponsorships—is two to three times what is spent on new digital marketing, so the world is changing slowly.
Kilmer has also seen growth in the tech-spend category "strategic systems." It covers origination, data analytics, business intelligence and profitability analyses. "Look for the evolution of martech to challenge former assumptions and drive more investment in digital and analytics," says Kilmer. "The question is not if—but how fast it happens."
Talent Wars
Technology isn't the only key to marketing automation. So is finding and fighting for the talent to execute your plans. "Technology has invaded every line of business, and CUs are competing with other industries for talent," offers Kilmer. "And as technology moves to the cloud, experts can transition to other industries that use the same industry-horizontal tools."   
Understanding where you are in the process and the technologies available, along with spend and staffing trends, can help you hammer out the right martech wish list. "Most likely, it will be a combination of marketing automation tools and astute people to use them, to deliver the experience your members demand," concludes Kilmer.
Case Study: Amplify Credit Union
Lisa Nicholas, chief digital officer/SVP for Amplify Credit Union at the time of this interview but no longer with the CU, believes automation is fundamental to marketing success. The $905 million Austin-based CU's marketing tech stack starts with Salesforce CRM, which interfaces with the Salesforce marketing and analytics cloud. Intertwined is the CU's website, which feeds the sales funnel with web leads.
"API (application programming interface) software enables web data and other information about the buyer to merge via Salesforce," explains Nicholas. "You see a 360-degree view of the buyer and can ask questions digitally, which feeds back to Salesforce. Through the unification of data, you can watch the buyer's behavior and place each on a robust sales journey."
At Amplify CU, there are 12, 30-day buyer journeys. About 50 percent are non-member leads, including a deposit journey, home equity loan process journey, debit card low/no usage journey, real estate lead journey and an indirect auto onboarding journey.
"The idea is to engage and communicate—not sell," stresses Nicholas. "For example, an application for a mortgage may start with the first click, an application submitted, to a video hello from our rep, subsequent emails, to closing the mortgage."
Quantifiable Success
Since automating member journeys in late 2016, Amplify CU has seen engagement increase 36 to 45 percent across the board. Compared to prior "batch-blast" marketing, which consisted mostly of email and direct mail, engagement rates were significantly less, 18 to 21 percent.
The CU also has remarkably high success onboarding indirect lending members. The journey includes outbound calling, direct mail pieces and digital ads served within 90 days of account opening. Sixty-five percent of indirect members now open and click through to a landing page, compared to only 28 percent previously.
Through marketing automation, every piece of technology and ad is served in real time. "[When I was at Amplify,] we also used attribution models to monitor the journey, from first touch and lead generation to post-lead creation and the closing of the sale," says Nicholas. The attribution model is critical. "It enabled us to understand all our digital channels. And because Salesforce shows progress in real time, we could monitor the journey and see which ads, which content, is or isn't working."
"You can also compare success based on market area," continues Nicholas. "So, if an ad is successful in one community, for example, Dallas but not Houston, you can quickly make a change. You also connect more personally with members and make better ad-spend decisions."
The CU's move to Salesforce has connected its technology stack. "Whatever platform you choose, avoid those requiring a lot of manual integration," advises Nicholas. "And don't try to build a system from scratch. It's just too difficult for many CUs."
Incorporating more AI and machine learning for greater sales opportunities is on Amplify CU's martech wish list. "I foresee using [AI models] to suggest and predict with lead scoring tools on the sales side," adds Nicholas. "I also think CUs will incorporate more intelligence in their member engagement and tools to help monitor shifts in consumer behavior. Tools like [Salesforce] Einstein and Marketing Cloud can help."
Case Study: BCU
CUES member John Sahagian, CCE, VP/marketing and member intelligence for $3 billion BCU, Vernon Hills, Ill., has been part of a marketing evolution. He calls it "the modernization of marketing" and encourages other CUs to follow suit. "It embraces marketing automation—the integration of member intelligence, marketing analytics and business intelligence, and uses data to move towards advanced predictive analytic models," explains Sahagian. "This data allows us to understand and better perceive member needs and facilitate dialogue."
BCU has always been SEG-based. It serves Fortune 500 companies, Baxter International, UnitedHealth Group and Target to name a few. It has 48 branches, most inside corporate buildings, but only 45 percent of BCU members have access to a branch.
"We've always had to do more to reach members outside traditional channels, without relying on community marketing, branch promotions or even face-to-face conversations," says Sahagian. "We've also had to depend on member data to build stronger relationships, both internal data and information we purchase."
The Marketing Tech Stack
BCU's marketing technology includes a single data warehouse and two dozen systems that feed into it. Adobe Campaign, a marketing automation tool, taps directly into the warehouse and automates segmented email and direct mail outreach campaigns. Its content management system, Sitecore, personalizes the member experience online. The system includes A/B testing options provides engagement analytics.  
"A lot of direct outreach is managed in Adobe Campaign; it scales up our campaigns and pinpoints member subsets. This year, we'll be adding a CRM component to make it even more powerful," says Sahagian. With every campaign, the CU runs at least one A/B test and performs channel testing. While direct mail once was the CU's go-to channel, email is by far the preferred channel used to communicate with members today.
More on Channel Testing  
Sahagian notes that certain stakeholders were reluctant to part with past campaign strategies. In the case of credit card acquisition, it was direct mail. "But with channel testing, we can make accurate, quantifiable comparisons, including per-card acquisition costs by channel," he explains. "We can predict the percentage of new card. ... So, instead of throwing dollars at channels that don't show quantifiable results, we use those dollars to invest in the channels that more efficiently do so."
Testing can also be used to compare subject lines, intro offers and design elements.
"We've had hunches both verified and nullified," says Sahagian. Consider the example of a $250 incentive designed around an auto refinance campaign. "We felt sure there would be some lift with the incentive. But after testing it with a subset that received no incentive, we found members were actually turned off by the cash reward."
A CRM Is Next
The system will complement BCU's data warehouse, provide agents a comprehensive view of the member in real time and write web behavioral data to the member profile stored in the data warehouse. "We'll track the pages they visit, click-throughs and length of time on site," adds Sahagian. "We hope this insight will allow for even more relevant and timely email and outbound call campaigns."
When modernizing your marketing tech stack, Sahagian admits the hard part is integrating various systems. "It's not just one vendor; it's a member data ecosystem. ... There are many data platforms and partners to connect, leaders and developmental staff to involve, and other stakeholders that must be on the same page."
Sahagian advsises starting incrementally. "For example, before integrating Adobe Campaign, we knew we needed more robust campaign execution. We reviewed our strengths and weaknesses and decided on the Adobe technology. Now we target members seamlessly with much more personalized content."
The CU also re-evaluated the composition of its marketing team, their technical skills and willingness to evolve digitally. "Success meant having the right talent in place, a team ready to embrace technology and the sheer speed of change. We soon realized the traditional viewpoint wasn't going to work any longer," explains Sahagian.
He adds that all industries are scouting for the same martech talent and technical staff may be harder to retain. "We've had success hiring people early in their development and 'upskilling' (promoting) them. Our dynamic corporate culture has also helped with retention. Still, tech-savvy employees will be in demand, require commensurate compensation and may leave regardless."
Martech Glossary
Here are some common terms to know before starting your marketing technology journey.
CRM—Customer relationship management. Real-time, sales-focused. Manages communications with members and potential members, targets specific offers, finds and grows leads. Examples: Salesforce, HubSpot.
Workflow Management—Software that manages well-defined and repetitive business processes and routines, such as creating a new email marketing campaign. Examples: Intuit QuickBase, Workfront, WorkflowGen.
Data Warehouse—Data stored separately from the core, used in conjunction with a CRM. Extracts data from transactional, operational and external sources.
CMS—Content management system. Helps manage content and marketing campaigns based on targeted leads. Examples: Adobe Campaign Manager, Sitecore.
AI—Artificial intelligence. Emulates or predicts human behaviors. Examples: Einstein (Salesforce), Sensei (Adobe) and Adaptive Intelligent Apps (Oracle).
API—Application programming interface. A set of routines, protocols and tools for building software applications. Allows two technologies to talk.
Marketing Automation/Cloud Marketing—Software platforms designed to effectively market on multiple channels (email, social media, websites, etc.), automate repetitive tasks, manage workflows, nurture leads and provide campaign analytics. Can usually sync data with a CRM. Examples: Marketo, HubSpot, Oracle, Salesforce, Adobe Campaign, Sitecore.
Marketing Tech Stack—A grouping of technologies to leverage and improve marketing activities, automate tasks for improved efficiencies and to streamline service delivery.
Sources: Ad Age, IT Glossary from Gartner Inc., Wikipedia and Optimizely.
Stephanie Schwenn Sebring established and managed the marketing departments for three CUs before launching her business. As owner of Fab Prose & Professional Writing, she assists credit unions, industry suppliers and any company wanting great content and a clear brand voice. Follow her on Twitter@fabprose.