Thinking Big With CUSOs
April 2018: Vol 41 No 4
The benefit of working with any CUSO is relying on its strengths, with the ability to think big and take advantage of an increased level of intimacy.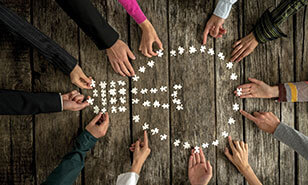 Chuck Fagan, president/CEO for CUES Supplier Member PSCU, St. Petersburg, Fla., appreciates the impact CUSOs have on their owners. "We can aggregate our services and talent and work closely with many partners across the financial services industry," he explains. "Take Apple; it doesn't want to work with 58,000 separate entities. But it is happy to collaborate with key partners like PSCU."
CUSO partnerships enable you to follow financial trends all over the world. "The U.S. financial services system is extremely complex," says Fagan. "As a CUSO, we are continually following world trends and applying those key learnings."   
Most CUSOs invest heavily in research, innovation and fraud prevention. "We have to be good stewards of our owners' data by monitoring for fraud," notes Fagan. "And we have the absolute obligation to protect a CU's assets during the transaction process. When we see fraudulent activity occurring in one part of the country, as a CUSO, we can apply strategic initiatives to protect all our owner CUs."
Aligning with a CUSO enables you to stay connected and follow developments without missing a beat; for PSCU, it's about observing spending and payment trends. "We've seen a dramatic shift in consumer spending," reflects Fagan. PSCU owners saw a 9 percent increase in holiday credit card spend. Additionally, there was a $14 billion shift nationally from in-store to e-commerce during that time. "This indicates consumers are comfortable with the security of shopping with their cards, in-store, online and in the mobile space."  
Grow Loans Efficiently
Consider CUES Supplier member CU Direct, Ontario, Calif. The company's AutoSMART car-buying website, along with CUDL, the nation's largest credit union auto lending platform, providing point-of-sale financing, have become a catalyst for car loan growth. Its lending network includes 1,100 CUs, 15,000 car dealers and a potential member base of 50 million nationwide.
"We're continually seeking new ways to meet consumer loan demand," says Tony Boutelle, the CUSO's CEO/president. He points to CU Direct's Innovation Lab, a place where CU leaders meet to explore trends, collaborate on opportunities and debate emerging products. One product on its radar is "Subscription Services," a form of high-end leasing, enabling buyers to drive a variety of vehicles—rotating up to 18 different vehicles annually—at one set payment.
"Product innovation is critical for us," adds Boutelle. "We review new products in a 12-month window, a 24-month window and innovations beyond three years. Staying abreast of emerging products, we analyze the risk and gauge if there is a way for CUs to participate."
Auto loans continue to be good for CUs says Boutelle­—with more than 25 percent of all auto loans in the U.S. closed by credit unions.
CU Direct offers a turnkey loan process, including loan tools members can use via mobile and POS financing at more than 15,000 dealers. "The process covers everything, from loan approval to risk management, underwriting, form creation and contracts with dealers," says Boutelle. Also impacting operational efficiencies is the explosion of artificial intelligence, with much of the back-end work now completed by machine learning. "Still, the future is mobile," he adds, "and we're helping CUs connect with more members than ever with the mobile tools they desire."
Increase Net Income
Creating income for their member-owners is a priority for CUSOs, and Tampa-based Trellance is no exception. "Our role is to increase credit card spend, along with interchange, finance revenue and fee income," says Bill Lehman, SVP/managed services. And regardless if balances roll over, increased spend is good for all CUs. The CUSO, a CUES Supplier member, considers itself "processor-agnostic," so any CU can tap into its portfolio management strength. "We assist with portfolio management along with consulting and education for CUs," says Lehman. "We're also here to share our most valuable asset—our people—who have a wealth of industry knowledge and insights."
Lehman believes it's essential to leverage your CUSO's experience relevant to the market. "As credit card growth increases, up nationally 5 percent since 2016, it's important for credit unions to tap into our experiences, and the positive trends in spending and consumer confidence."
Watching transaction data enables CUs to tailor their products and services to consumer spending habits, adds Lehman. Here, targeted programs can support or stimulate spending and increase consumer confidence in your program.
He also sees a lot of CUs that "spray and pray" with their card marketing, which is both expensive and ineffective. "CUs can tap into our Card Portfolio Growth Solutions, a 12-month card growth plan offering segmentation and targeted communications. Participating CUs have seen an average of 14 percent revenue growth year-over-year when comparing 2017 to 2016."
Lehman also implores CUs to consider card loyalty programs. "For example, on credit and debit cards, there is an active market that expects rich rewards on card transactions. As rewards programs gain traction, consumer confidence and demand increase, making it even more imperative for CUs to compete."
Ultimately, the benefit of working with any CUSO is relying on its strengths, with the ability to think big and take advantage of an increased level of intimacy.
 
Stephanie Schwenn Sebring established and managed the marketing departments for three CUs before launching her business, Fab Prose & Professional Writing. Follow her on Twitter@fabprose.