On Compliance: 2018 Regulatory Deadlines
January 2018: Vol. 41 No 1
Here are six key compliance changes taking effect this year.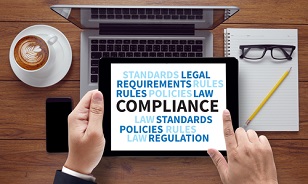 Credit unions face several important compliance deadlines in 2018. Even though the industry has had months and in some cases years to prepare for these changes, we have heard firsthand that there will be a fair amount of last-minute scrambling to become fully compliant. Let's look at several of the compliance deadlines and briefly describe what is changing.
HMDA
Jan. 1, 2018, was the effective date for most of the requirements in the new Home Mortgage Disclosure Act rule, including institutional and transactional coverage, data collection, disclosures and reporting. The new rule added 25 new data fields and modified 20 of the 23 previously existing fields. Covered credit unions should have begun collecting the information on Jan. 1, 2018, and will report it by March 1, 2019.
A credit union is subject to the HMDA requirements if it originated at least 25 covered closed-end mortgage loans or at least 500 covered open-end lines of credit in each of the two preceding calendar years, and if it meets current Regulation C asset-size, location, federally-related and loan activity tests.
Covered loans, for HMDA purposes, will now include the following:
Closed-end consumer-purpose mortgage loans and open-ended lines of credit secured by a dwelling
Dwelling-secured business-purpose loans and lines of credit, but only if used for home purchase, home improvement or refinancing
Home improvement loans secured by a dwelling
Whereas data collection was previously optional, covered credit unions are now required to collect, record and report information for preapproval requests for home purchase loans that were not accepted.
Rather than making a disclosure statement or a modified loan application register available to the public upon request, a covered credit union must provide a written notice stating that the disclosure statement or modified loan application request is available on the Consumer Financial Protection Bureau's website https://www.consumerfinance.gov/data-research/hmda/tech-preview in response to a request. 
Covered credit unions will report data using the new web-based submission tool. Amended appendix A requires that a covered credit union electronically submit its loan application request. 
Regulation B
Effective Jan. 1, 2018, CFPB amended Regulation B so that mortgage lenders have more flexibility in collecting race and ethnicity information. The changes will not require credit unions to maintain different collection practices depending on their loan volume. Credit unions will be able to use application forms that include expanded requests for ethnicity and race information, including the revised Uniform Residential Loan Application. 
Prepaid Cards
Effective April 1, 2018, CFPB's prepaid card rule goes into effect. The rule modifies Regulations Z and E. The final rule establishes that it is an unfair and abusive practice for a lender to make payday and vehicle title loans without reasonably determining that the consumer has the ability to repay the loan according to the loan terms. The final rule also makes it unfair and abusive for a lender to attempt to withdraw payment from a consumer's account after two consecutive payment attempts have failed, unless the consumer specifically provides new authorization to do so. 
BSA Customer Due Diligence
Effective May 11, 2018, new final rules will require covered financial institutions, including credit unions, to identify and verify the identity of beneficial owners of legal entity customers each time a new account is opened. The Bank Secrecy Act regulation includes a new section specifically on beneficial ownership requirements. In determining beneficial ownership, the credit union may rely on copies of identity documents supplied by the member as long as they believe the information is reliable. The final rule also requires anti-money laundering programs to explicitly include risk-based procedures for conducting ongoing customer due diligence and developing a customer/member risk profile. 
Regulation CC
Effective July 1, 2018, the current check collection and return requirements will be modified to reflect a virtually all-electronic check collection and return environment and to encourage all depository institutions to receive, and paying institutions unions to send, returned checks electronically. The new rule applies Regulation CC's existing check warranties under subpart C to checks that are collected electronically and adopts new warranties and indemnities related to checks collected and returned electronically and to electronically-created items.
TRID Amendments
Effective Oct. 1, 2018, amendments go into effect related to the mortgage disclosure requirements under the Real Estate Settlement Procedures Act and the Truth in Lending Act. There are new tolerances for the total of payments, a requirement for the integrated disclosures in transactions involving cooperative units, and clarification on how a creditor can provide separate disclosure forms to the consumer and the seller.
If your credit union is among those that have been putting off a move toward compliance with these new regulations, the time to get started is most certainly now.
John Zasada is principal with CliftonLarsonAllen, Minneapolis.