Facility Solutions: Big Opportunity in Small Markets?
July 2018: Vol 41 No 7
Six suggestions for minimizing the cost of having a physical presence.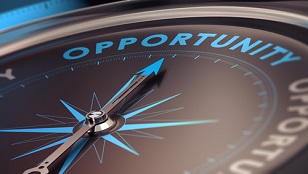 Large banks are closing branches in small markets to focus on more profitable markets where they can leverage efficiencies of scale, marketing dollars and favorable demographics. For example, Bank of America shuttered 600 branches in "underperforming markets" through 2017 and now plans to build 500 new branches in more desirable—and often larger—markets.
With other financial institutions backing off, credit unions may have an opportunity to serve small markets. For example, $886 million Park Community Credit Union, Louisville, Ky., offers micro commercial loans between $5,000 and $10,000, and $2.4 billion Genisys Credit Union, Pontiac, Mich., offers business loans up to $40,000, providing an effective way to engage new business owners as they start to grow. 
Even in small markets, providing a convenient branch location remains a top priority for consumers as well as small-business owners. So how can a credit union place a branch most efficiently? Automated cash handling technology and small staffs are a good start. Here are six more ways to provide a worthy physical presence at a reasonable cost:
Limit branches to cash automation and one or two staff and grow as needed. This reduces the risk of robbery and changes the focus from operations to member engagement and relationship building. 
Provide consumer and business training on or off site. This is particularly effective in micro lending as small and new business owners look for help. 
Train community members how to use their smartphones and tablets for financial services. This helps members manage their finances while reducing branch visits.
Lease space next to a community center, resource center or medical clinic. This increases traffic and visibility while enhancing security. It also suggests an association with an adjacent partner that's providing community service.
Position teller-assisted ATMs in a space that has staff visiting on a schedule. Or, have a van or bus that goes into markets to handle cash and conduct meetings. If cash is securely provided at a fixed location, a mobile unit with a staff member can bring a near full-service branch to each small location on a scheduled basis. These mobile units can include video conferencing to provide connection to high-value service providers. You will then have a very large billboard driving throughout your markets and visiting events that represents your commitment to the community.
Visit the small business and home buyers at their residents or other chosen location.
Similar models can be used for small markets that may have desirable demographics but limited size and household concentration. This methodology provides a significant opportunity for credit unions in rural markets to connect directly with consumers and small business and beat the banks in terms of relationship development and service on the ground. It is also an effective way to reduce branch operating costs, stay in a community and retain important relationships.

I am working with credit unions to develop strategic branching plans that include both business and philanthropic objectives. There are opportunities to significantly enhance efficiency, profitably and community service in every market. The key is to have a clear understanding of each market, your business goals and community service desires balanced with your financial model. With the right strategies, products, technologies, staff and physical locations, credit unions can meet both their financial and community service objectives in markets of nearly every type and size.
Paul Seibert, CMC, is an independent facilities and real estate consultant under Paul Seibert Consulting, Seattle.