Facility Solutions: Branch Opening Check List
March 2018: Vol 41 No 3
Ask these key questions to boost your chances of success.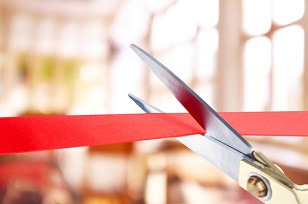 Opening a new branch can be complex. A lot is riding on the first impression made by this new location's branded member and staff experience. At opening you want the branch to run flawlessly. This is particularly important if you are presenting a new business model and evolving the member and staff experience from traditional operations to new teller/member service kiosks or self-service and connection with remote service providers. 

Many steps are required to ensure success when designing, constructing and opening a branch—enough to fill many pages of books and articles I have written over the years. This is the last management and oversight step in the pre-opening process and can vary significantly based on location, lease vs. own, size, jurisdiction, lines of business, type of cash delivery, level of technology, adjacency to headquarters, drive-thrus and other factors. But there are also some common elements in every opening. In response to a CUES member's recent inquiry about a checklist to use for this process, I put together the following list.

Marketing
Has your target market been informed about the new location? If you are relocating a branch, explain why you moved and the expected benefit to members?
If are you changing the way you deliver services, has this evolution and its advantages been explained to the market?
Will you be holding an event for the opening? How are you going to maximize attendance? If you are willing to invest in an opening event connected to product deals or a community cause, you may be able to jumpstart membership growth and community engagement. According to CUES Supplier member Weber Marketing Group, Seattle, initial membership growth can increase three to five times faster when an event is held, depending on the level of investment.
Was your merchandising plan integrated into the branch design? Are lights properly located for merchandising and video monitors? Do you need support in any walls to support merchandising elements?
Do you have a self-service kiosk that needs to be set up, both in terms of programming, location choice and content?
Are you adding services to this location that should be promoted to target markets, such as wealth management, insurance, mortgage and small business? 
Will you be sending out targeted mailers? Is the mailing based on a market segmentation plan and target current members? When should these be sent?
Notifications
If you are relocating safe deposit boxes, has the 90-day notification to box holders been completed?
Have you informed the police department and security monitoring company?
Have your insurance companies, vendors and service providers been notified?
Have federal and/or state agencies been informed?
If you are leasing, has the landlord been notified?
Has the new location been placed on your website? If members do a Google search, will they find the new branch and location on Google maps?
Location
If you are leasing or part of a development, have all the covenants, conditions and restrictions been fulfilled?
Has your sign been placed on the development's marque?
Is there clearly designated parking?
Is the ATM location highly visible and well signed?
Construction
Have all inspections been completed by governing jurisdictions?
When will the occupancy permit be issued?
Is there a brand story to tell the market about the branch design and construction methods?
Are all cabling and electrical locations for opening day and future needs per the specifications? Do any need to be relocated or added prior to opening?
Staffing
If your branch is new, is staff fully trained to deliver the new brand experience? Are they your top performers to help ensure success? Have they practiced the new method of operations in a mock setting? Do they understand how they will interacting with new job responsibilities and remote staff serving members through video teller machines and video conferencing?
Have all Americans With Disabilities Act requirements been met?
What is your plan for accommodating lactating mothers in the new branch?
If staff are union, are there issues that must be addressed before opening?
Operations
Are all systems up and running for the addition of new equipment?
Have you reserved the cash necessary for staff and ATM/video teller machine operations?
Have you scheduled armored car service for cash and loading ATMs?
Will you be providing instant issue debit cards? Is the equipment properly secured? Where will the card stock be stored? Is there a security camera focused on the machine?
If you're introducing a new branch concept, have you staffed appropriately to explain and support the new setting?
Do you have emergency plans and vendor contracts in place?
What are your recycling procedures, and will the facility accommodate your specific requirements?
How will you be measuring performance at this location? Have the criteria changed? Do you have buy-in from the key stakeholders? 
Cabling
Who will be running the cables, providing the connectors, and then installing and testing the equipment?
Are cable runs needed for future locations, such as work stations and additional ATMs?
Security
Has staff been trained in opening, closing and robbery procedures for this location?
Has the staff been retrained if the operating model has changed? Do they follow SafeCatch procedures?  
Are there cameras outside and inside the entries, at the point of transactions and where dual control is replaced with camera observation?
Is the camera recorder located in a hidden and locked location or stored with the security provider?
Are alarm buttons located at cash transaction points, cash room, staff desks, ATM rooms and the CEO's office if the branch is adjacent to the headquarters?
Does the fire department have access to the building?
Do you want to observe branch activities from remote locations and, if yes, has this been set up?
Furniture
Is all the furniture available for installation?
Are you certain all the equipment will fit? For example, transaction location cabinetry is often designed to accept undercounter steel. On occasion the cabinetry is installed before the carpet. Is there sufficient space for the cabinetry when there is a half to three quarters of an inch less height? 
Has there been any change in equipment specifications that requires modifications to cabinetry, electrical, cabling or air conditioning?
Equipment
Is all equipment ready for installation?
Will the space be ready for installation to meet your schedule of testing and opening?
Are your appliances ready for installation in the kitchen? Are the dishes, silverware and other kitchen items ready?
Have all the lavatory accessories been installed?
Do you need to install a motorized screen in the conference/community room?
Signage
Have all interior signs been installed?
Have exterior signs been installed for the ATM location, entry and exit and traffic guidance?
If you have a reader board on your primary sign, who oversees programming and where are the monitor and controller located?
If you plan to present outside merchandising adjacent to the ATM or drive-thru or on the side of the building, will you need a permit?
Event Planning
How are you promoting the opening? See Marketing and Evolution above.
Do you have an approved budget?
Will vendors be involved, and have they been notified of the date and conditions?
Do you require any permits for the event, such as temporary permit for banners or food handling? If a food truck will be included, does this require a permit?
Do you need to inform your insurance provider?
Is additional security required?
Will the opening event be inside or outside the branch? If outside, how will you deal with inclement weather?
The intent of this list is to provide a starting point for you to assemble your own questions specific to your new branch type and location. It is a good idea to ask your branch team to review the list and add other steps they think will be necessary. Best of luck on your next branch opening.

Paul Seibert, CMC, is an independent facilities and real estate consultant under Paul Seibert Consulting, Seattle.