Facility Solutions: Philanthropy and Branching
August 2018: Vol 41 No 8
Deeper member engagement is created by integrating good works and community connections into members' experience.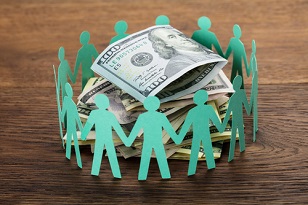 An important element of every credit union's business plan is philanthropy. How do we as an organization give back to the communities we serve?
Most credit unions support local events, contribute to important causes, allow staff to volunteer during paid time, and participate in service organizations. All are important to creating a brand and culture with meaning and connecting with target communities.
Today, credit unions can use both digital and branch delivery channels—a "phygital" strategy, as Price Waterhouse Cooper has deemed it—to tell people about their good work. As branch visits decline do physical locations become less effective as community connectors? Not necessarily, if they are driven by a strong strategic plan and clear business and philanthropic objectives.
Simplistically, you need to make money to give money. Philanthropy is a passionate topic at board meetings and one of the prime objectives of the organization. How then are these philanthropic objectives delivered through the strategic branching plan?
Ben Stangland, president of CUES Supplier member Weber Marketing Group, Seattle, has developed wining branch strategies for a wide variety of credit unions across North America. He says, "Credit unions must combine business and giving objectives with accurate data to ensure strong growth and income generation, while providing needed services and funding to each community. This often requires going beyond demographics alone to understand business potential. Rather, a well-advised plan must be based on psycho-demographic data and mapping to get at both business potential and the lifestyles of target households and their propensity to embrace a credit union's brand. This creates a sustainable win-win."
A few years ago, I had the honor to work with Tamara Vrooman, president/CEO of $26 billion Vancity Credit Union, Vancouver, British Columbia, and her team to better understand their market and translate their brand into a new branch prototype. I was amazed at the sophistication of the CU's philanthropy and checked back in recently to learn about their continued success. The CU's value statement sets the stage: "To redefine wealth in a way that furthers the financial, social and environmental well-being of our members and their communities."
Vancity CU does not use the term philanthropy. The CU is about "making good money," says Nezihe Aquino, VP/community member service. "Good money" is about making your money work harder for you while doing good things in your community and the world. Vancity CU considers its branches more than just transaction locations or places to display non-profit contributions. They want their branches to be community hubs for both consumers and small-business owners.
When you enter a Vancity CU branch, you are greeted by a highly trained concierge. This team member provides information on a wide variety of banking topics, takes you on a tour of the branch and even conducts a transaction on a mobile pad.
Each branch has a community-specific art piece behind each greeter that tells a story. In the South Burnaby branch, this is a two-story installation of plates with graphics representing both a historic element of local manufacturing and the point in the day when families discuss important topics.
The branch includes a "community stage," used to connect business owners and non-profits for developing synergy. These rooms are in high demand and generate a good deal of branch traffic that is about building communities and creating mutually beneficial relationships between small-business owners, non-profits and Vancity.
Examples of the results of this connecting work are available on Vancity CU's website. For example:
"Tacofino, a Tofino legend expanded into Vancouver and Victoria. Vancity loaned them $350,000 to renovate their Gastown location. Vancity went beyond a loan, they connected them with Recycling Alternative to find ways to reduce emissions from organic waste and truck fuel. Today, Tacofino's food trucks are fueled by oil from their fryers."
Nezihe explains that Vancity CU goes beyond lending. "We provide a prominent business display area, on a two- to three-week rotation, with products, cards and contact information to help connect our members."
The branches are a local center for micro-loans to help individuals get their businesses started. "A hand up rather than a hand out," says Nezihe. Vancity CU then helps small entrepreneurs find other small-business owners and service providers like lawyers and accountants. 
The desire to become the community hub for consumers and small businesses leads the credit union to consider other needs or services that are under-provided. For example, Vancity CU is beginning to work with a large community health care organization to provide insurance coverage for small-business owners and their employees and families.
Vancity CU donates significant funds to its communities. Since 1994 the institution has distributed $287 million to members through dividends and to communities through grants and community investment initiatives. Members can vote in branches for the various grant-giving efforts.
Making money and giving back is an admirable quality. Vancity CU has taken this even farther by loaning money to organizations that do good work. This is a real win-win. For example, the Skwachays Lodge is the world's first and only Indigenous arts boutique hotel. Vancity CU provided millions in financing to start construction. Profits support the artists whose work is displayed. The lodge also provides 24 shelter rate apartments for vulnerable Aboriginal people and two social enterprises. This story is told online and in branches.
Vancity CU's formula seems simple but produces excellent results in terms of strong target growth and making good money by loaning money to organizations that do good work, asking for their deposits and other business in return.
Here are a few ways you can promote your giving efforts in your branches:
Communicate what your staff and credit union are doing in the community with photos, displays and via video.
Promote low-interest loans as an alternative to payday lenders.
Locate a one-person branch with a smart ATM or interactive teller machine in small underserved markets where banks do not see viability. There are thousands of these markets throughout the U.S.
Offer a conference room to non-profit organizations.
Provide an office space that small businesses and non-profits can use for meetings.
Provide ways for members to vote for organizations to receive grants. 
Use the branch lobby for non-profit, community and small-business events.
Train your greeter/concierge to include your giving initiatives in the brand story.
Locate a small display "stage" that can be used to connect members to small businesses and non-profit organizations.
Display non-profit campaigns.
Use your parking lot as a staging area for car washes and running/bicycling events.
Branches are costly, and we must maximize their use whether a 200-square-foot micro branch, 1,200-square-foot express branch, 2,500-square-foot community center or 4,000-square-foot hub. Deeper engagement with members is created by integrating your good works and community connections into their branch experience. Deeper engagement translates to higher deposit levels, products per household and small business growth, a win-win all around.
Paul Seibert, CMC, is an independent facilities and real estate consultant under Paul Seibert Consulting, Seattle.