Facility Solutions: Providing Food and Drink
December 2017: Vol 40 No 12
What's the best way to offer members coffee, popcorn, cookies or hot dogs? To serve the food needs of staff and directors?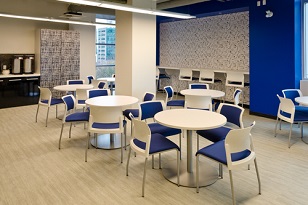 A few years ago, we asked members of a British Columbia credit union what was the most important venue for family and business discussions. The answers consistently named venues involving food. Whether people are at home, in a restaurant or even in a credit union, sharing drink and food is a visceral, comforting and trust-building experience that helps create a positive bond. Staff's ability to share food is equally important in creating an organizational culture and an enjoyable work experience.

Food and drink are most commonly shared in branches and headquarters facilities but they also can be provided at member events like outdoor barbecues and staff picnics. In this article, I will synthesize 40 years of observation of how credit unions and banks can most effectively provide beverage and food service.
For Members
The most common drink of choice—coffee—is typically offered in one of these three ways: 

1. at the entry so members have free access. The drawback is that members are moving about the lobby and standing in the teller line with coffee that will easily stain the rug if spilled. If you wish to offer coffee at the front door, use carpet tiles in the lobby so several stained sections can easily be replaced rather than the whole rug. 

2. to the side or behind the greeter for members in the waiting area. This provides warmth and connection until your staff member arrives. Part of your experience engineering may be for your greeter or arriving staff to provide coffee as a gift. 

3. at the back of the lobby and out of sight. With this setup, staff greeting members ask them if they would like coffee and bring them a cup as part of the introduction experience leading to a discussion.

The issue of whether to plumb or not to plumb coffee areas comes up during every branch planning session. Plumbing is expensive and inflexible. I recommend using hot pots instead. Some credit unions have installed expensive pod machines to then experience high usage as some members fill their pockets with the coffee modules. Espresso machines are a good addition if volume is low, but the need for constant cleaning and repair and staff receiving member complaints when the machine does not work, or the milk goes sour, are common. 

Over the past 20 years I have observed a few banks and fewer credit unions offering coffee service in the manner of Starbucks. Those that do are typically in high pedestrian traffic areas in the center of a city. The idea is to create a Starbucks atmosphere. Capital One has tried this most recently. The results are mixed. If it really works, the lobby may be full of people on their computers for hours as they sip free or low-cost coffee. Is this the purpose of a financial institution branch? It can make sense if it's located in a hybrid environment like an on-campus branch or a flagship facility, but most institutions remove the service after a few months. 

A better plan may be to locate a branch next to a high-volume coffee shop like Starbucks or regional or local houses, as long as there is sufficient parking. As a bonus, with this approach you do not need to worry about health codes, staff needing food handling certification, extended hours of operation and square footage dedicated to low return on investment.

Food service is not offered to members in most branches except for special occasions. For many years branches offered popcorn once a week. This required a popcorn machine in every branch that would produce a festive fragrance some days and a not-so-likeable smell on other days. We do not recommend popcorn machines in today's branches. 

We have seen a small rise in the offering of fresh cookies. About one in 10 clients sees this as a part of the credit union's culture and the smell is of course wonderful the day of and after baking.

Some banks in Europe and the United States have experimented with a limited full-service food offering like Starbucks or a small deli with prepared food. Almost all financial institutions have later stopped the practice due to cost, limited use, and the non-bank focus for the space and staffing. 
Another thing to consider is whether the credit union will be offering hotdogs or hamburgers outside the branch during the summer. If yes, you may want to consider including a gas connection in the building exterior or landscape design and a nearby hose bib.
For Staff
Food service is a necessary headquarters amenity for staff and an important part of the work experience that can help structure a credit union's culture. The exact size of the employee lounge or dining area depends on the accommodations on each floor and proximity of outside food service. Generally, we plan the dining area to have 10 to 15 square feet per staff member, figuring that all staff do not eat at the same time.

The operation of employee lounges takes a few forms. Most credit unions equip the kitchen with one or two large refrigerators and microwaves. Coffee service may include an automated espresso maker as well as standard coffee pots. There may be an island that can be used for serving at special events.

Twenty years ago, it was common for headquarters kitchens to include stoves and ovens. Departments could then cook full meals for special events. This feature is rarer today due to issues of smell, cleaning and time away from work. Some say the lack of ability to cook has negatively impacted their culture while most see it as positive for the organization overall. 

Some large credit unions offer full food service to employees. This becomes a business within the credit union with all the issues of running a restaurant including licensing, health certificates, inspections and staff feedback, but it is a wonderful benefit for staff and can be one of the employment differentiators in your market.

Four basic strategies exist for laying out employee lounges: 
a room full of tables and chairs in groupings of the same size;
a variety of table and chair configurations so groups of different sizes can eat together; 
space divided into an area for dining and a separate area to watch TV while dining; or
tables and chairs of different sizes, including two-person tables, and lounge areas with large, small and single chair arrangements.
These spaces may also include amenities, such as a ping-pong table, shuffle board area, pool table and nooks where staff can work in an environment away from their desk.
A food and beverage strategy should be developed for existing and new headquarters. Here are some key questions to answer:
Do you want staff to eat and drink at their desks? 
How far do you want staff to walk to get their drinks of choice? 
How many coffee areas should there be per floor to reduce time away from the desk? 
Should employees be able to bring drinks to a meeting in a conference room? 
Should there be coffee in large conference rooms? 
Should each department have its own coffee setup, or should coffee areas be common to all? 
Should the coffee area be a place where staff can hold an impromptu conversation at a small bar or next to a white board? 
Should there be a refrigerator in each coffee area for staff food? 
Should the coffee areas provide a small freestanding counter that can be used for staff celebrations near their departments? 
Where should the coffee areas be placed to limit and control repetitive traffic, and to provide efficiency in terms of adjacent to conference areas, lavatories and primary traffic intersections? 
Who maintains the coffee areas?

For the Board
Most board meetings are in the evening and food service is common. I cannot remember an evening board presentation over the past 40 years where food was not served. While most of these dinners were catered, the caterer and office staff needed a place to get water, clean dishes, and gain access to a refrigerator, dishware and cutlery. 

In our observation, all medium and large credit unions have a small kitchen adjacent to their board room. It is typically difficult to locate a board room next to the main employee lounge, as board rooms are most successful next to the administration area for low traffic and privacy. The small board room kitchen can then be used by senior management at any time.

Food and drink link us together. How they will be offered should be considered in initial branch and headquarters planning to ensure sufficient space, correct adjacencies and efficient locations. It should also be considered and designed as an expression of your brand and culture. Bon appétit.
Paul Seibert, CMC, is an independent facilities and real estate consultant under Paul Seibert Consulting, Seattle.