Facility Solutions: Reducing Workplace Stress through Design
May 2018: Vol 41 No 5
A checklist for your offices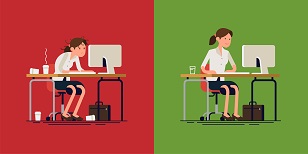 Almost half of our waking hours are spent at work. While we all have stress in our lives for reasons of relationships, health, finances, environment and world events, our workplace environment should not add to it. As creators and managers of the work environment, we can help mitigate work-related stress through strong and consistent HR practices, such as ongoing staff and management training, an open work environment, and employee assistance programs. 

My wife is a senior clinical account manager for First Choice, an EAP in the Northwest. She recently reminded me of the importance of reducing workplace stress through an article she wrote for work. Her focus is on the mental side of the stress equation and mine on providing physical environments that support staff well-being. Through completing numerous headquarters and branch prototype projects, I have learned there are a wide variety of tools that can be used to reduce workplace stress through design.

Here is a checklist that can be used when designing your own place of work:
Workstations
Does the size and panel height support each job function? What is the need for visual communication with others? Does the design allow for staff to move between visual privacy and free visual connection? Are panels needed or would a completely open work environment better match your culture?
Is sound privacy needed? Can staff choose when they want sound privacy? Should you allow staff to listen to music through earbuds or should you generate white noise for general distribution? 
Can staff change their physical environment without impacting others? Are the monitors and keyboards easily adjustable so they can change during the day or should you provide desktops that allow staff to stand for part of the day to reduce strain? Are staff chairs adjusted individual staff?
What is your policy concerning personal items? Can staff glue beany babies to the top of their office panels, live in a space with no personal items or somewhere between? A clear policy is needed. 
What is your policy on personal calls? Should they be taken at the workstation or spaces provided away from other staff? 
Are workstations and offices properly designed to support engagement and relationship-building with members? Can staff partner with members at a round table while sharing a monitor with tools, product and account data or while video conferencing with a centrally located high value service provider such as mortgage, small business, wealth management or insurance?
Can the air temperature be changed in small areas in response to group preferences and exterior heating and cooling?
If staff work from home, can they access office data on their home computers? 
Work Environment
Can staff work and meet in different locations? Do you have small conference spaces, lounge settings distributed around each floor, a stand-up counter with a white board in the coffee area, niches off the stairs, window seats or outdoor seating?
Do staff sit at their assigned work stations or can they take their laptop to any location and work? Are there locations where impromptu meetings can be held to help build the office culture?
Are lavatories and coffee bars centrally located for convenience and reduced travel time? 
Should there be messaging and displays, such as cultural and product and service messaging in the lobby and lunch room, that help connect branches to headquarters staff? 
Are there choices when it comes to free time? Are there restaurants within walking distance? Are there spaces where small groups can gather for lunch, lunch-and-learn sessions, or where individuals can read? Do you have a lactation room available at the headquarters and a policy in place for branch staff?  
Is the lighting appropriate for the work tasks? This may mean a variety of lighting types and controls both at each station and in the general area.
An open work environment requires accessibility to managers up and down the line. Should managers be in offices or in open spaces? If they should be in offices, should there be shades that can cover the windows or partial film on the glass to allow visible connection without revealing detail? Should there be swing or large sliding doors that allow each office and conference room to feel like part of the general office space?
Is there a place to play such things as Ping-Pong, shuffle board or basketball? Is there a way for staff to get physical exercise by providing an exercise room, space for yoga classes, a running path or a pickle ball court? Do you promote bicycling by providing covered secure storage for bikes? Are there separate showers and locker areas near the exercise area and bicycle storage?
Do staff feel safe? Is public access blocked to headquarters? Is the path to parking well-lit and monitored? Is there a working emergency plan? Are staff issues quickly handled? Do you have an EAP that includes staff, family member and management counseling 24/7, as well as crisis intervention after such workplace and family incidents as job loss, substance abuse, sexual abuse, personality disorders, major illness, death and robberies? Are the secure spaces for in-person and phone conversations?
If you want to provide low-cost or subsidized seated messaging, where can this occur in private?
Do you have a stress management plan?
This quote, remembered but unassignable, sums it up; "We create space and space creates us." Our physical environments have much to do with how we feel and interact with others. Much of our staff's time is spent in spaces we create. Managing and motivating people in this ever-evolving world is an increasingly complex and challenging responsibility. By integrating stress-reducing design principles into your credit union's workplaces, you will not only improve the life condition and productivity of your staff but reduce your own stress as well.
Paul Seibert, CMC, is an independent facilities and real estate consultant under Paul Seibert Consulting, Seattle.