Inside Marketing: #MemoriesAreGolden
November 2017: Vol 40 No 11
$11 billion Golden 1 CU taps into member sentiment with its social media accounts during the 2017 California State Fair.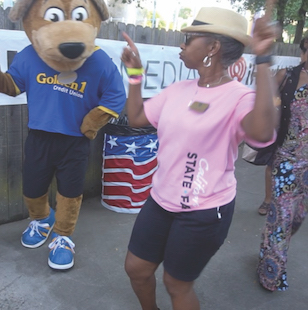 Golden 1 Credit Union's social media plan for the 2017 California State Fair was to produce a variety of content for Facebook, Instagram and Twitter. Using the hashtag #MemoriesAreGolden across all channels, the CU posted about its ticket giveaway contest, daily events, ways to save at the fair and information on must-see exhibits. It also posted photos of its popular mascot, Goldie, having fun at the fair. (Follow Goldie on Instagram @golden1goldie and Golden 1 CU @golden1cu.) 
As this photo depicts (above, right), Goldie was a hit. (See the post here.) 
Initially, the CU gave away family four-packs using an "enter-to-win" sweepstakes. It promoted the sweepstakes on all social channels, resulting in 284 entries and 1,000 total page views. 
During the fair, July 14-30, the CU continued its presence. It gave away free t-shirts at concerts where the CU's social handle was prominently on display on stage, and Goldie had fun handing out fidget spinners to kids.
Overall results:
2,023 Golden 1 CU social media mentions  
391 new likes on Facebook
65 new followers on Instagram
27 new followers on Twitter
The CU had 128 posts cumulatively, with peak conversations occurring July 14-22. Social monitoring software "listened" for keywords and hashtags from users who posted about the CU throughout the event, grouping word clouds and assigning sentiment based on a scale of either negative or positive word association. The software revealed that sentiment during the fair was 98.5 percent positive.
Stephanie Schwenn Sebring established and managed the marketing departments for three CUs and served in mentorship roles before launching her business. As owner of Fab Prose & Professional Writing, she assists CUs, industry suppliers, and any company wanting great content and a clear brand voice. Follow her on Twitter @fabprose.