Inside Marketing: Start with Video
August 2017: Vol 40 No 8
Flipping today's content generation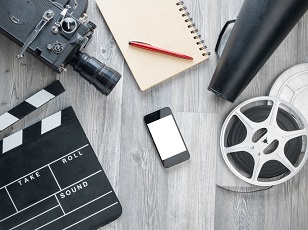 When most people initially think of video production, they think of it as the pinnacle of content generation. You have to have a camera, microphone, lights, etc. It can sometimes be complicated and costly for sure. And though it doesn't have to be, that's the reason most think of doing video last when generating content. It usually starts with, "Let's write something." Kind of like what we're doing here.
Don't get me wrong. There is certainly nothing wrong with writing. It's my first love and always will be—and is still very effective. But today, you have to think of how content is consumed. Writing first is the old way of thinking.>
With 75 percent of all internet content generated in 2017 being video, it's time to rethink the "writing first" mantra. Video first is quickly becoming the new order.
Think about it. If you produce a video interview, like a member success story for instance, you have all the information you need in the video to write your story: quotes, background info, stats, sources. You can also extract the audio from the video to create a podcast. You have all the content necessary for a multi-channel delivery of your story: video, audio and text.
Look at most of today's top news sites like CNN, ESPN, ABC, CBS or NBC. For each posted story, those sites have a video, a downloadable audio file, a written story below the video, and sometimes a transcript for people who want to read the dialog. (Transcripts are a huge help with SEO, too.)
People consume content in numerous ways today, and you have to deliver it accordingly. There are more and more people who enjoy watching video—especially watching them on the go. There also more and more people downloading podcasts and listening to them while they work out, on the way to work, traveling or just lounging around. And then there are those of us who still enjoy sitting down and reading a good story.
So the next time you're planning to generate some new content, you might want to think "video first," and then let that information trickle down to include other channels so it hits everybody's tastes.
For those of you who think that you have to hire an expensive film crew to make a video, nothing could be further from the truth. If you have the time and budget for a big production, then by all means go for it. For the rest of us, however, something more accessible and affordable is the right approach.
Today's smartphones and tablets work wonderfully. Nearly everybody has one today, and we're all using them to take selfies or make funny videos of family and friends anyway. So why not use it to make your video content? The lens is good, the mic is not bad, and it comes with editing software and plenty of memory nowadays.
Nearly every millennial and Gen Zer are creating fantastic videos from their smartphone or tablet. And they can create them in minutes. Why can't you? It's point, shoot, edit and post—and then promote like crazy on your social media channels.
What are you waiting for? Start creating video today and the produce the audio and text from it to meet all your members' delivery points. Seems very upside down, but it's an effective way to cover all your bases when generating content that sticks.
Mike Lawson, principal and founder of the PR/marketing firm DML Communications, and host of the online CUbroadcast show and the Parting Shots video series, has two decades of journalism, public relations and marketing experience. His unique and robust knowledge allows him to meet the varied needs of editors, end-users and clients. Lawson's expertise enables him to enhance his clients' market exposure through media relations, social media tools, advertising efforts, target marketing strategies and more. He also speaks on PR, marketing and media issues to audiences nationwide.