Loan Zone: Documents for People with Vision Loss
May 2018: Vol 41 No 5
Formatting for accessibility even before a request is made may help CUs better serve members and comply with the ADA.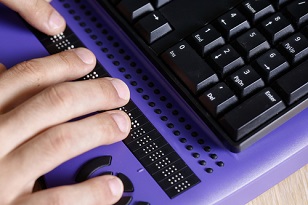 Central to the mission of every credit union is that it exists to serve its members. While numerous factors go into delivering the level of service that members count on, a fundamental consideration is the need to provide members with documents in a format they can read.
Statistics show there are approximately 21 million people in the U.S. with vision loss, including an aging Baby Boomer generation and a large number of people with cognitive disabilities. For those who are blind or partially sighted, reading and understanding personal and confidential documents can be difficult or even impossible without the help of a sighted person or an assistive device. However, while 15 to 20 percent of the population needs access to accessible websites and documents, only 3 to 4 percent of documents are actually made accessible. One reason for this discrepancy is that many organizations, including credit unions, wait for a customer request before they will take the steps needed to convert a document to an accessible format.
For a CU dedicated to serving its members, taking an "upon request" approach is problematic and can cause great inconvenience to members with vision loss. In particular, formatting financial documents for accessibility can be more complex than many other kinds of documents because they often contain detailed tables, graphs and personalized customer data. For example, we know of instances in which a consumer with vision loss received a printed bill in the mail and called to request it be re-sent to them in an accessible format, only to receive the accessible documents after additional billing cycles had passed. No one involved in the transaction benefitted from this approach, neither the organization to be paid nor the inconvenienced consumer. Before doing business with financial organizations, many consumers with vision loss or blindness have learned to vet them to make sure they provide accessible documents.
Privacy is another important concern. Your members should not be put in the position of having to ask someone they know to read a loan document, such as a credit application or promissory note containing their private financial information, or having to ask a representative at your CU to read it to them. Taking the right steps to proactively make your CU's documents accessible will show your members that you respect their privacy and take seriously their desire to engage in financial affairs independently.
Additionally, there are legal requirements to consider. These include the Americans with Disabilities Act and the Rehabilitation Act of 1973, Sections 504 and 508, in the United States and the Accessibility for Ontarians with Disabilities Act in Canada. These acts require documents to be made accessible when needed. The enforcement of laws like these is growing, with the number of demand letters in the increasing 400 percent in the last year, as well as a 37 percent increase in Department of Justice lawsuits.
Consider an Automated Approach 
To take a more proactive approach about meeting the needs of your members with vision loss, look for ways to automate the process of making documents accessible for members who need them. Depending on the type of document, there are different processes for automating the creation of accessible documents. With structured documents, such as invoices and statements, business rules are set up, or tagged, by a user on a base document or template. Once tagging for accessibility is complete, the rules are applied to each document.
When dealing with published or static PDF files, such as marketing communications or booklets, tagging can be further automated using an algorithm on text content location hierarchy, saving anywhere from 25 percent to 100 percent of the time spent doing manual remediation.
It should be noted that tagging for accessibility should be done by someone who understands accessibility and can make sound decisions about things like read order and complex tables. Quality assurance is a vital component of the accessible document workflow and should be handled by someone who understands document accessibility. For such formats as Accessible PDF and Accessible HTML5, the tagging should validate with such assistive technology such as JAWS, NVDA and Voiceover.
Automating the process will enable your CU to make documents accessible in seconds instead of taking days or weeks if done manually or through a third-party provider. Another significant advantage of automation is that your organization can make a document accessible on the fly when requested by a member, rather than having to store all documents in an accessible format. Since the business rules and logic for accessibility have already been created, the document itself can be immediately and quickly converted from whatever format it's stored in, for example PDF/A, to the requested accessible format. Having this capability can significantly reduce document archiving costs, which in some instances can be more than 30 times higher if stored in accessible formats. Even with optimization, Accessible PDF files are larger than standard PDF files, so most organizations prefer to produce the accessible format only when it's needed.
Ultimately, in addition to being the right thing to do for your members, think of the growing number of consumers needing accessible documents as a new market for your CU. Just as fintech startups have demonstrated that convenience matters, those with vision loss want to work with businesses that understand their needs and make it easy for them to engage in transactions. Ensuring that loan documents, statements and other important financial documents are readily accessible is an important way to demonstrate excellent service to your members. This will not only lead to additional business, but also enhance your members' satisfaction and loyalty—and play a vital role in helping your CU grow and profit.
An electronic document industry pioneer, Ernie Crawford is president/CEO and founder of Crawford Technologies, based in Toronto. One of only a small number people worldwide with M-EDP (Master Electronic Document Professional) designation, Ernie has more than 30 years of senior marketing and management experience in the high-volume electronic printing market.