New Hire Onboarding
January 2016: Vol 39 No 1
How you treat new call center employees is important to their longevity at your credit union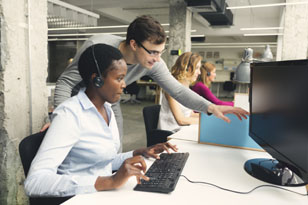 Three foundational building blocks need to be optimized to consistently deliver engaging member experiences over the phone: people, processes and leadership. Our journey of nine articles will cover each in detail. Part one discussed hiring for top performance and part two covered call center performance management.
This is the third article and the first on processes. Specifically, we tackle the challenge of transforming your new hire onboarding program, with low-cost tactics, to reduce turnover and increase productivity.
It's estimated that half of all hourly workers will leave their jobs in the first four months, and half of senior-level employees hired from outside will quit or be fired within 18 months. And although still low compared to other financial institutions, overall credit union employee turnover is increasing. According to data from the CUES Employee Salary Survey, full-time call center employee turnover is 24 percent (20 percent for part-time call center staff).
Turnover is also very expensive; the cost of losing an employee within the first year is estimated to be three times the employee's annual salary, according to Recruitment Solutions And increasing employee retention rates not only saves money, it improves member experience by providing enough time for employees to build relationships with members.
Impact of Workplace Friendships
One solution to turnover problems is as simple as helping new employees make friends within the organization. The key to this approach is to act quickly, considering that, according to the Aberdeen Group, 86 percent of newly hired employees decide whether to stay or quit within their first six months on the job.
But how can you tell who will stay and who will go?
Donald Clifton, the founder of Gallup, developed a survey that measures 12 items he believed were the best indicators of employee engagement. Clifton found that the strongest predictor of productivity was employees' answer to the question: "Do you have a friend at work?" Research done at the University of Pennsylvania and the University of Minnesota confirmed that workplace friendships do indeed make employees more productive.
Workplace friendships also contribute to longevity  on the job by increasing employees' desire to stay with the company. In 2012, Gallup found that close work friendships boost employee satisfaction by 50 percent, and that people with a best friend at work were seven times more likely to engage fully in their work.
Think Like an Event Planner
Traditional onboarding programs that include videos, lectures and extensive reading can get quite dull. Therefore, you should consider low-cost tactics used by event planners to help forge these crucial workplace friendships as soon as an employee has been hired.
For starters, you can plant seeds of friendship by introducing new hires to others within the company who have the same interests – after all, similarity sparks friendships.
SnagAJob, an online recruiting firm, requires all employees to complete a questionnaire that includes questions about their personal interests. This makes it easier for the organization to introduce new hires to employees with similar interests.
New hires at Zappos are required to participate in a scavenger hunt where they are assigned challenges to locate employees around the company. For example, they are instructed to find someone who owns at least three pets. By the time they find these people, they are already engaging with several Zapponians (what Zappos calls its employees). Other assignments could be as simple as finding the longest tenured employee in a particular department.
Another idea is to assign an initial project where the new hire can collaborate with others and quickly start building their social networks. You can even take it one step further by developing a mentor program to help expedite the process toward becoming a productive employee.
Feedback Just as Critical
While using these tactics will help, checking in regularly is just as critical. Frequent feedback, especially when the new hire is performing well, is central to their confidence and motivational development. As a result, check-ins should come from all key stakeholders – not just their direct supervisor. Set key milestone dates (after 1 week, 30 days, etc.) to get feedback from new hires.
Getting feedback will also benefit the organization. For example, doing so provides an opportunity to generate new ideas from a pair of "fresh" eyes. Specifically, ask hires to share ways they see that your organization can improve, both its member experience and its new employee experience. What's more, it's likely that friends of the new hire will be reaching out to them, during the onboarding process, and asking them what it's like working at your organization. Therefore, it's imperative you make a strong impression. Doing so will help build your brand and put you on the right path to becoming an employer of choice.
Enjoy developing new approaches to your new-hire onboarding programs, and stayed tuned for next month's article on journey mapping.
Prior to starting his new company, Bill Stavros spent over 13 years of his professional career in the credit union industry, most recently as VP/marketing & member experience at $513 million Proponent Federal Credit Union, Nutley, N.J. At Proponent FCU, Stavros was responsible for conceptualizing, architecting, developing and deploying a new vision for delivering customer service for the inbound call center, based on his learnings from highly regarded service oriented companies such as Zappos, Ritz-Carlton, Disney & REI. Now with Blueprint Interactions, his goal is to help other credit unions achieve similar results. He can be reached at bill@bpinteractions.com, by calling 888.757.8338 or at www.bpinteractions.com.