PR Insight: 3 Simple Ways to Corner the Market on Millennials
October 2017: Vol 40 No 10
Start conversations, and let your personality shine through video and social media.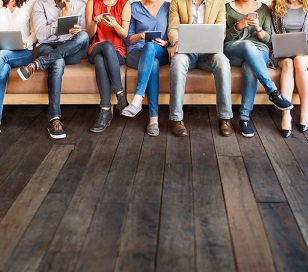 You've read countless articles about millennials, and you'll probably read countless more. People are quick to discuss the need to embrace millennials by constantly sharing the latest data that follows millennial trends, as if the generation were an endangered species—which for some credit unions may be true. As a millennial who specializes in credit union communications, let me say one thing: It's time to drop the formulas and get practical. 
As products of a digital revolution, millennials interact with thousands of Facebook friends and Instagram followers, fostering connections with peers, celebrities and influencers far outside of our normal social circle. The amazing, yet overwhelming nature of having thousands of friends worldwide—some of whom we don't even really know—leaves us searching for a sense of community. Farm-to-table, local companies and membership organizations are being reinvigorated by a demand for more authentic and personal relationships. It's a demand that credit unions are uniquely positioned to meet, if they don't over-complicate the strategy. 
Millennials are pushing towards simplicity, searching for direct, straightforward and personal communication—especially in regard to our financial health. We want digitally accessible features, but not complete self-service. We want to have conversations, to know with whom we're speaking, and to be provided with guidance and resources that are relevant to our stage of life.
Have a Personality on Social Media
Many believe social media to be the ultimate channel to reach the millennial market, but there is more to it than simply posting content at the right times. Millennials seek conversations, so credit unions must adopt a style of communication that promotes interaction and drives conversation to gain the most value from social media. Posts should be creative, personal and even entertaining; consider using Twitter's poll feature or highlighting community involvement.
Another way to promote engagement is to encourage employees to create professional social media profiles. Avidia Bank has done a great job of this with their Bank Smarties, ambassadors that work for the institution and represent the brand across social media. Customers appreciate the ability to connect with their reps more directly, and it also gives the institution a stronger digital persona. Avidia Bank is not alone—many companies are embracing brand ambassador programs; GoPro and Lululemon are strong examples. It's a strategy that fits perfectly into the credit union community.
Own Your Content 
Millennials came of age during a time when commercial advertisements dominated the consumer scene. But audiences became accustomed to skipping over traditional paid media—TV commercials, ads in print publications¬—and demanded something of value to keep their attention: content. This gave way to the rise of the blog, an owned media outlet that most millennials trust and seek out for guidance. There are nearly seven million bloggers in the world today, and data shows that companies producing blogs on a regular basis experience an average of 97 percent more traffic on their website. 
Blogs offer credit unions an opportunity to host valuable and insightful information and can be a valuable discussion forum for members. For instance, CU blogs can highlight savings trends or advice on improving financial health, providing an educational and personable insight to products or current events.
Keep Video Rolling 
Finally, video production has become a representative form of communication, with YouTube alone serving more than 1.5 billion users every month. Videos deliver tremendous value as a storytelling tool at the cost of minimal resources, time and complexity. 
From tutorials to movie reviews, consuming video is second-nature to millennials. Referred to as "digital natives," we are proficient in technology and have the ability to balance multiple screens, whether that's a smartphone, iPad or television. The rapid consumption of digital communication has created a shorter attention span for most millennials; therefore, video production serves as the most effective outlet to grab attention, more so than a lengthy article.
The average viewer-retention rate of personalized videos is 35 percent higher than standard, non-personalized videos, proving that videos with an honest, human-centric approach can have significant impact on your credit union members. Keeping in mind short attention spans, it is important to adopt an entertaining and witty tone when developing and sharing videos. 
Moving Forward
In today's digitally obsessed world, it can be challenging to interact and build relationships with members who aren't spending time in your branches. However, millennials are seeking out relationships with organizations that embrace and give back to the community—they are seeking out the credit union movement! Don't let this opportunity go to waste; embrace new forms of communication and start conversations with the up-and-comers in your community. A digital relationship can quickly transition into sharing photos from a community fundraiser or being tagged sponsoring a local game. Imagine that—members advertising on behalf of the credit union! This sounds like the way credit unions were meant to be.
Caroline Walker is an account coordinator at William Mills Agency, the nation's largest independent public relations firm focusing exclusively on the financial services and technology industries. The agency can be followed on Twitter, Facebook, LinkedIn, or its blog.
CUES' Credit Union Management's online-only "PR Insight" column runs the first Thursday of every month.