PR Insight: Don't Lose Out on the "Lost" Generation
June 2018: Vol 41 No 6
Gen X poses a golden opportunity for CUs.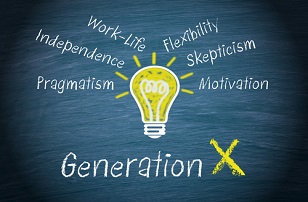 When it comes to the topic of generations, there are waves of articles on millennials, focused on the differences between millennials and Baby Boomers, the pending generational wealth transfer and marketing to this younger demographic. More recently, the financial industry has also become concerned with engaging Gen Z.

However, one generation often gets overlooked: Gen X. Referred to as the "middle child" or "lost" generation, Gen X—those born between 1965 and 1980—tends to be neglected when it comes to discussions of wealth and financial needs. Like many industries, credit unions are missing this golden opportunity. (As a Gen Xer myself, I suppose I'm a bit biased). 

Gen Xers are quickly approaching the peak of their earning potential and spending years, and while they may be fewer in number than other generations, there are still about 65 million people in this group that could be become a key demographic for growing a credit union's membership and bottom line.
Know Their Priorities
While many within the industry are talking about the upcoming wealth redistribution between Baby Boomers and millennials, most are failing to consider that it's the Gen Xers who may be first in line. Deloitte projects that this generation will experience a surge in their share of the national wealth, growing to more than 30 percent by 2030. If these trends continue, the "lost" generation will also take the title of the wealthiest generation.

Gen X, now entering its financial prime, values flexible banking options and financial education. Gen Xers are also prioritizing retirement, even though statistics show many in this group are underfunded. And while Gen Xers may have less wealth than their parents, they are more open to financial advice—a Purchasing Power report revealed that 89 percent would participate in financial education programs offered through their employers. 
Major Life Stages Come with Expenses & Financial Complexities
Gen Xers are going through major life stages where credit unions are positioned to help. For example, this group may be willing to open a line of personal credit or take out a loan to pay off wedding bills, and many are also in the market to buy a house or refinance an existing home. In fact, a recent Pew Research survey showed that 56 percent of Gen Xers currently have mortgage debt, the most of any generation, so refinancing may be a great option to offer members of this generation. 

Gen Xers are also one of the key demographics targeted by automakers, with the same Pew survey showing 43 percent holding car loans (also the most of any generation). This makes options for car loans another great way to engage Gen X members.

With the younger half of this generation focused on starting families and the older half looking at their children's college tuition costs and their own retirement, credit unions are in a position to offer a wide range of valuable tools, services and benefits for their every need. Gen Xers are considered one of the most loyal generations when it comes to brands, so establishing these relationships could lead to additional opportunities with those member's friends, relatives and possibly even their children.
Be an Advocate for Their Needs
So you're sold—but how can your credit union best reach Gen X? Frankly, it can be a bit tricky. How you market makes a huge difference when it comes to this generation. First off, Gen Xers generally hate the hard sell and can be skeptical. Directly witnessing events like the housing market crash has made them especially wary when it comes to anything finance-related.

As a recent report from 3fold Communications suggested, being an advocate—supporting and acknowledging their needs—and showing you can be there for them goes a long way. Offering services with an authentic voice and being knowledgeable of your own products (as well as other options) can cement these relationships.

While the other generations are important too, don't forget about your Gen X members. Overlooking the "lost" generation could mean a lost opportunity for your credit union.

CUES' Credit Union Management's online-only "PR Insight" column runs the first Thursday of every month.
Derek Howard is an account agent at William Mills Agency, the nation's largest independent public relations firm focusing exclusively on the financial services and technology industries. The agency can be followed on Twitter, Facebook, LinkedIn, or its blog.