PR Insight: Three Key Elements of a Successful Website Renovation
August 2018: Vol 41 No 8
Your credit union's online 'business card' is the first stop for prospective members.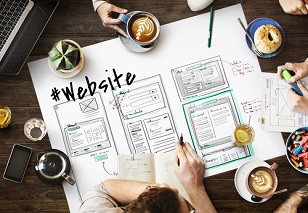 For many businesses, including credit unions, the summer season can have more downtime than the rest of the year—financial matters are often pushed aside to be readdressed in the fall after vacation season is over. This slow period is the perfect time for CUs to capitalize on lighter schedules and focus on revamping their websites. Ultimately, a website is a credit union's business card and is one of the first resources a prospective member turns to when researching an institution's products and services. 
Redesigning your credit union's website is a big project with valuable benefits. In many ways, your website is your CU's biggest branch. According to a recent Pew Research survey, 51 percent of adults in the U.S. use online banking, which means your website must be a fully-functional marketing tool that attracts and engages your ideal member. 
Here are three sure-fire ways credit unions can renovate their websites to best promote their institution's value. 
1. Make a good first impression. 
Your homepage is the face of your credit union—and you only get one chance to impress visitors. The website should be compelling and visually appealing and exhibit an easy-to-use interface. It's all about simplicity; in fact, a recent HubSpot survey noted that the most important factor in the design of a website is whether or not it is easy to find what you need. Project leaders must keep the following questions in mind when redesigning a website: Does it look professional? Is it easy to navigate? Is it aesthetically pleasing? When existing and prospective members land on the website, do they feel welcome and secure? 
2. Create compelling content. 
Original content is your website's messenger; it will inform visitors about what you do and how passionately you do it. With a variety of platforms available for creating original content, you should be regularly publishing to your credit union's website to keep members engaged and frequently interacting with the site. 
Examples of compelling, quality content include:
member testimonials to provide third-party validation of the credit union's services; 
newsletters and blog posts that provide members regular updates about the credit union's new products and services, involvement in the community and upcoming events; and 
online newsrooms that emphasize PR results, such as press releases, online articles, awards and any other accomplishments your credit union is proud of. 
3. Enhance online visibility.
Building and designing a website is easy—actually getting people to visit the site is the hard part. The best way to gain website traffic is through search engine optimization. This will ensure you are in a top position when researched online.
There are several ways to improve your visibility, such as: 
creating sharable content; 
reaching out to influencers in the industry; 
contributing to blogs and online publications as guest authors; and 
engaging on social media (with hashtags). 
Enhancing online visibility boils down to creating content that others find valuable and want to share, providing links back to your CU's site. 
A credit union's website is its biggest—and perhaps most important—channel, because more people interact with it than any one brick and mortar location. Credit unions must attract, educate and continuously engage with members, both potential and existing, and a robust website is the key to doing so. By following these three guidelines, CUs can easily improve web presence, drive web traffic, increase member satisfaction and attract new members. 
Alena Roberts is an account associate at William Mills Agency, the nation's largest independent public relations firm focusing exclusively on the financial services and technology industries. The agency can be followed on Twitter, Facebook, LinkedIn, or its blog.