Is Your Process Entirely Electronic?
July 2016: Vol 39 No 7
Expert finds that paperless lending as the norm is still a few years out, but thinks key conversations are happening now to move ECM forward.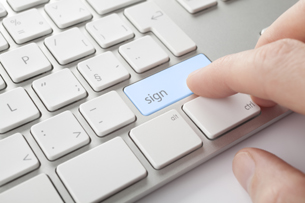 My financial services career started 15 years ago when I was training end-users on new technology while helping IT and the business create better processes and systems. It continues today with advising financial organizations on how to evolve their IT strategies to embrace digitization.
Process improvement is engrained in me, especially within such paper-intensive processes as loan operations. I work with some organizations that have embraced digitalization in their loan processes and others that still largely rely on paper. Every time I come into a project where an organization has piles of paper lying around, I am dumbfounded—because digitization has so much to offer in terms of efficiency.
After a recent project to implement an imaging and workflow system, I was curious about the current state of technology adoption within the financial services industry. I wondered how many banks and credit unions were fully leveraging the technologies needed to keep pace with customer demands. It wasn't long before that curiosity prompted me to formulate a survey to gather intelligence on the subject and, of course, report my findings.
The survey had a total of 138 responses, which provided some interesting results:
Few respondents had adopted e-signatures. 17 percent of survey respondents said they use e-signatures for all loan types, while 34 percent said they only use it for some. What I found most surprising is that 18 percent confirmed they still need wet signatures for everything, no matter the type of loan.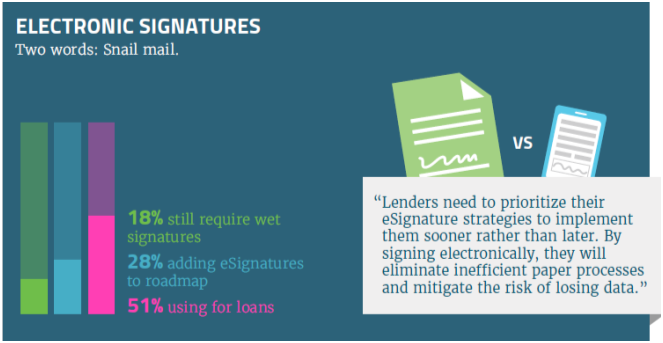 From conversations with clients and survey responses, it's clear there is still a high level of concern from financial institutions about e-signature risks. This is still the case despite the fact that the Electronic Signatures in Global and National Commerce Act, designed to support the validity and legal effect of agreements entered into electronically, became law over 15 years ago.
Yet, the industry still lags behind in e-signature adoption because of security fears. For many CUs, the benefits of e-signature solutions, including process improvement and better member service, far outweigh the low risk associated with these applications. And, with member experience at the forefront of all credit unions, ensuring members' lending experiences are positive means not erquiring numerous trips to the branch. 
When choosing an e-signature vendor, make sure you choose one that upgrades its product on a regular basis and gives you choices. For example, does the vendor offer both a premises-based solution as well as a cloud offering? Additionally, you want to make sure to find a reputable vendor with a proven track record. Talk to your peers, send out requests for proposals. Ask questions until you find a provider that can deliver exactly what you and your members need.
Respondents had too many manual touches in their processes. The survey found that only 1 percent of respondents can process a loan application change request with zero touches—meaning a customer could initiate a request and have it systematically satisfied without interaction from financial institution staff throughout the course of the loan process. About 60 percent of those surveyed reported it takes their institution at least three touches to make a change request. This is a clear indication of siloed departments that lack basic integration. The result is wasted time that ultimately has a negative impact on member service.
Respondents have labor-intensive processes for compliance tracking. Survey respondents reported having a hard time tracking missing and expired documents. The survey found that 35 percent of organizations are tracking such processes with Microsoft Office products, which tend to rely on data entry and the skill of the person entering the data. It's clear credit unions can benefit from automation within compliance tracking to take action to correct missing, expired or defective documents in a shorter amount of time. On a positive note, 81 percent of respondents said they are able to demonstrate proof of compliance.
Respondents tend to over-retain documents. It was very surprising to hear that 14 percent of survey respondents are retaining hard copies forever. This is a severe example of over-retention that actually puts the organization more at risk because if the information still exists, whether in paper or electronic form, it must be produced in a discovery situation, even if a credit union's document retention policy says it should have been destroyed years ago. The costs of collecting, processing and producing electronically sorted information can be enormous and time consuming if you're ever served with a subpoena or notice of regulatory audit.
In addition, 16 percent said they keep hard copies for the same duration as imaged documents. I often find myself asking these organizations, "What is the benefit of this duplication of effort, and what risks are being mitigated by maintaining both physical and imaged copies?" Overall, 30 percent of respondents are likely over-retaining physical documents.
It's clear loan operations can benefit from the strategic use of technology, such as enterprise content management, especially when integrated with other line-of-business systems and e-signatures to create a fully electronic process that reduces touch points, increases compliance, and mitigates risk associated with document retention.
Fortunately, we're seeing progress toward technology decisions that address these issues and concerns and close the current gap.
Recent conversations with industry experts found more financial institutions prioritizing ECM integration with e-signature solutions for an end-to-end electronic loan process. In addition, there's been greater collaboration among financial organizations to follow best practices for retention and compliance processes and use ECM solutions to automatically track and notify staff about when documents expire or go out of compliance.
Based on my research, I believe we're still a few years out from seeing true paperless processes as the norm within loan operations, but it's great to hear the right conversations happening to begin the planning of new technology initiatives.
Kathleen Niswander is director at CUES Supplier member and strategic partner Cornerstone Advisors, Inc., Scottsdale, Ariz. Learn more about Cornerstone's strategic technology and risk management services.