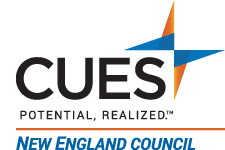 Creating community within the credit union industry in Maine, Massachusetts, New Hampshire, Rhode Island, Vermont, and all parts of Connecticut except Fairfield County
If you are in Fairfield County, Connecticut, please see the CUES New Jersey/Metro New York Council.

Access Your Council Community
To access your CUES Council Community, you must be a CUES member.
Login to your account at cues.org.
Visit your Council Community here.
Upcoming Events
We're busy working on events for your community.
Meet Your Council Officers:
Chair: Ryan G. Poulin - New Dimensions FCU
Vice Chair: Julie A. Marquis, CCE - Five County CU
Treasurer: Kyle Rinker - Granite State CU
Secretary: Tina L. Jamo, CCE - Katahdin Federal CU
Directors:
Sean M. Gammon - Members Advantage Cmnty CU
Marianne Zawacki - Digital FCU
Fred Reinhardt - Greenwood CU