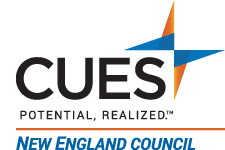 The CUES New England Council covers Maine, Massachusetts, New Hampshire, Rhode Island, Vermont, and all parts of Connecticut except Fairfield County. If you are in Fairfield County, Connecticut, please see the CUES New Jersey/Metro New York Council.
Council Officers Include:
Chair: Ryan G. Poulin - New Dimensions FCU
Vice Chair: Julie A. Marquis, CCE - Five County CU
Treasurer: Kyle Rinker - Granite State CU
Secretary: Tina L. Jamo, CCE - Katahdin Federal CU
Directors:
James Kelly - Polish National CU
Sean M. Gammon - Members Advantage Cmnty CU
Marianne Zawacki - Digital FCU
David Sacco - FD Community FCU
Fred Reinhardt - Greenwood CU
Access Your Council Community
To access your CUES Council Community make sure you are logged into cues.org above, then visit your community here.

Upcoming Events
October 4-5, 2021: Meeting held at the Mohegan Sun Resort & Casino. Register here.

Contact us at councils@cues.org if you'd like to be added to the emailing list and be notified when our next outing is scheduled.

Past Events
October 5, 2020: Virtual Annual Meeting
October 7-8, 2019: Annual Meeting held at the Mohegan Sun Resort & Casino. Access all the presentations.