Your Digital Transformation Tracking Tool 
Introducing Goma, IT governance technology built for smart credit unions managing a digital transformation strategy.
We get it, facing the digital transformation landscape is daunting and means something different to every credit union. 
 
To compete with big banks and fintech you must have strategies like mobile first, omnichannel, digital journeys, data mining, analytics and a wealth of applications to enhance member experience and solve any problem. 
 
And all of this while staying compliant, navigating security challenges and mitigating risk!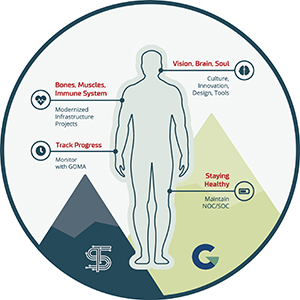 Whatever the mountain you currently face, you need to:
Assess your current state of IT infrastructure, security and compliance fitness
Set a plan to continuously improve your foundational health, mitigate risk and improve compliancy 
Journey Map your routes to success with member experience front of mind 
Track and report your progress 

Our partner, Think|Stack, builds and secures modernized technology environments. They have designed Goma specifically for the credit union industry to align your leadership team's innovation, digital transformation and cyber risk strategy and to have one place to capture and report your progress.
 
Interview with Chris Sachse
Watch Think|Stack's CEO and Co-Founder, Chris Sachse, in his CUbroadcast interview where he discusses how credit unions can avoid "Frankensteining" their technology and can shift from tech to human experience to finding the ideal balance in customer experience.
Members First Credit Union
Our management team loves being able to visualize our data, and Goma helps me achieve that from the technology angle. But what has begun to transform us most is the journey maps planning, which has allowed us to take both internal and member-facing processes and identify the hurdles in the journey that we can improve. Goma's value grows for us every time we use it.

Happy Climbing!
Make sure your digital transformation stays on track. Fill out an online interest form today to book your complimentary fitness test, onsite workshop and 60-day access to the Goma platform.
Interest Form