Confidently execute your duties as a current or future board chair with expert training from Board Chair Development Seminar.
Learn to protect your credit union with the good governance best practices you'll discover at this highly interactive, filler-free event. We'll discuss what's top of mind for you and your fellow board chairs, and delve deep into the responsibilities and challenges you face.
You'll leave with recommendations drawn directly from current best practices on:
The chair/CEO partnership
Critical domains for chairperson leadership
The chair's role in leading the governance process
Governance performance and risk oversight

Plus, you'll develop a personal action plan, so you'll be set for a successful conversation with your board back home.
The bottom line? You'll leave a better, stronger board chair, knowing how to protect your CU with good governance practices. Register now!
Let us help you plan a full-board retreat during our director seminars! Contact CUES, and we'll help you arrange meeting space before or after the event.
asset size — $788 million
The resource material, networking and contacts I have gained from this conference will help me in my role and make me a better board chair. This seminar is a must for board chairs, vice-chairs, committee chairs and anyone thinking of becoming any one of these. Awesome!
Network with Your Peers
Board Chair Development Seminar Attendees by Title
13.5

Attendees spent 13.5 hours learning with their peers.

15.5

You will earn up to 15.5 Continuing Professional Education credits for attending Board Chair Development Seminar.
Why Attend?
Current and Future Board Chairs: Why Attend?
Your role, and the decisions you make, are vitally important to the health and well-being of your CU. Attend and head home confident in your responsibilities.
Walk away with practical tips and tools you can implement right away.
This event is highly interactive. You can ask questions, bring up challenges, and share your own best practices and success stories.
You have a unique level of responsibility; you'll find a fellowship of board chairs, and develop a network of colleagues you can reach out to after the seminar is over.
You'll receive a hard copy, high-level seminar synopsis so you can share key takeaways and action items with your colleagues back home.
We'll set you up for success with planned discussion points.

CEOs: Why Send Your Current and Future Board Chair to this Event?
Board chair responsibilities range far and wide. Protect your credit union, and make sure your current and future chair are set up for success.
The schedule is filler-free; your chair will spend 13 and a half hours learning, and the interactive setup makes it easy to connect with new colleagues.
This seminar is a must attend for any board chair; aspiring, new, or veteran.
Upon their return, you can be confident knowing your board is functioning at its best.
This event is highly interactive. Your board chair will be able ask questions and bring up challenges in a positive environment among colleagues.
Plus, your board chair will:

Walk away with practical tips and tools they can use right away.
Meet others in the same role, and develop a network of colleagues they can reach out to after the seminar is over.
Receive a hard copy, high-level seminar synopsis, so they can easily share key takeaways and action items when back home.
Head home with talking points for easy back at home discussions

Thank You to Our Sponsors
Sponsorship Opportunities
When you need to reach the top, you need to reach the board chair. They're here!
Agenda
The schedule for 2020 is not yet finalized. Please check back for more information.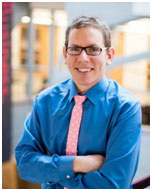 Manager of the Clarkson Centre for Board Effectiveness
Rotman School of Management
Hotel
Le Westin Montreal
270 St. Antoine Ouest
Montreal, Québec, H2Y 0A3
Canada
Rates at Le Westin Montreal are:
Single & Double Occupancy, $272 CAD per night plus applicable taxes, which include a housing tax, federal sales tax, and a provincial sales tax.
Make reservations prior to June 19, 2020, by using this link. The hotel will accept reservations after June 19th based on availability; however rooms may be sold out prior to this date. Staying within CUES' room block will help keep registration prices down. Hotel arrangements are strictly between you and the hotel.
Check-in: 3:00 p.m.
Check-out: 12:00 p.m.
There is a $6 per day mandatory porterage fee.
Parking
Le Westin Montreal valet parking is $36 CAD for 24 hours with in and out access and $21 CAD for the day.
Air Travel
CUES conference participants may call Fox World Travel for airfare reservations at 888.691.9163 between 7:30 a.m. and 5:30 p.m. CST and reference Group Code 09FP4115. Please note that a ticket processing fee of $37 domestic or $46 international will be added. CUES does not offer a discounted rate, but Fox World Travel will ensure the best pricing available for U.S. residents.
Airport
Le Westin Montreal is located approximately 20 km from the Montreal- Pierre Elliot Trudeau International Airport. Approximate drive time is 25 minutes from the airport to the hotel.
Airport to Hotel
Taxi service is approximately $38 one way. Uber and Lyft services are approximately $35 CAD each way.
Ground Transportation
Car Rental
Hertz is the official car rental company for this meeting. You can take advantage of their discounted rates by placing your reservation online at www.hertz.com or through the Hertz Meeting Sales Desk within the U.S. at 800-654-2240; from within Canada call 800-263-0600 refer to Meeting CV#02ZG0016.