At CUES, the industry's most talented thought leaders, innovators, marketers, and event planners are shaping the future of credit union leaders.
Perks and Benefits
CUES Covers You From Day One
CUES takes care of our employees. Our excellent benefits package starts on day one and includes medical, dental, vision, life with AD&D, legal services, short-term and long-term disability, automatic enrollment for the pre-tax 401(k) or post-tax retirement plans, paid time off, and more!
Work-Life Balance
We believe time outside the office is vital to our employees' satisfaction at work. Our generous PTO plan and flexible work schedules encourage team members to take the time they need to take care of personal matters or to take time off so they can come back refreshed.
Stay Informed
CUES is dedicated to ensuring all employees have the information they need to do their jobs well. Our monthly all-staff meetings, strategic pillar updates, and our People Leaders sessions are just a few of the ways we share key aspects of the business across the entire organization.
We Value Our People
CUES appreciates the hard work of its employees, who work from locations all over the US and in British Columbia, Canada. As an organization, we strive to recognize everyone's contributions and align with our CUES Values. Every employee has an individual development plan that aligns with our strategic pillars.
CUES offers a strong climate and culture that is enhanced by staff feedback gathered with annual surveys. Our internal DEI and staff recognition teams ensure support our work to have an inclusive climate and recognize every member of our fabulously unique staff.
One of the greatest benefits of working at CUES is having such amazing co-workers. Our monthly and quarterly activities keep us connected, and our annual party week is an opportunity we seize to show staff how valued they are!
Our Values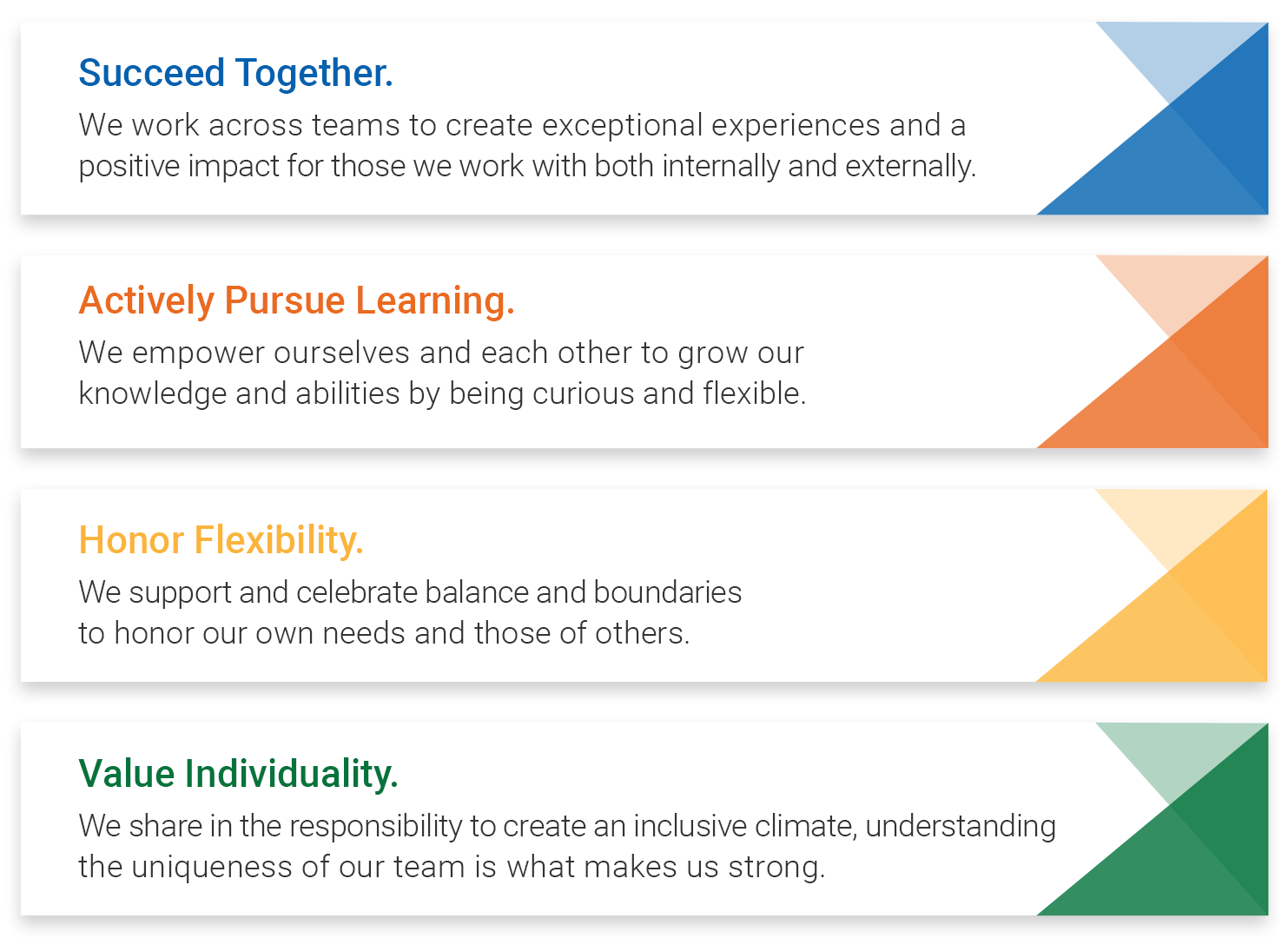 Join Our Team
We're looking for people who are just as passionate as we are about educating and developing credit union industry professionals.
Below are the open positions available at CUES. To view full job descriptions, please select it from the listing below.