Body
Tuesday, June 8, 2021
Presenter: Heidi Duss, Founder and Chief Consultant, Culturescape Consulting
This session will guide you through the importance of building knowledge and skills needed to create a welcoming and inclusive workplace for LGBTQ+ employees. In this training, you will learn key LGBTQ+ terminology and strategies and actionable steps you can apply that contribute to inclusive workplace environments.  
Whether you are a straight ally or a member of the LGBTQ+ community, we all contribute to a sense of belonging at work. Join us to learn how you can be part of developing inclusive, empowering, and safe spaces for LGBTQ+ employees in your workplace. 
 
Key Takeaways:
Increased knowledge in LGBTQ+ terminology
Deepened understanding of the affects of Unconscious Bias on LGBTQ+ employees and members
Recognizing your role and impact in LGBTQ+ inclusion in the workplace 
 
Plus: Reflective practices and actionable steps that you can implement today to support allyship in the workplace and beyond.
 
For virtual education support, review these helpful steps and frequently asked questions.
 
About the Presenter: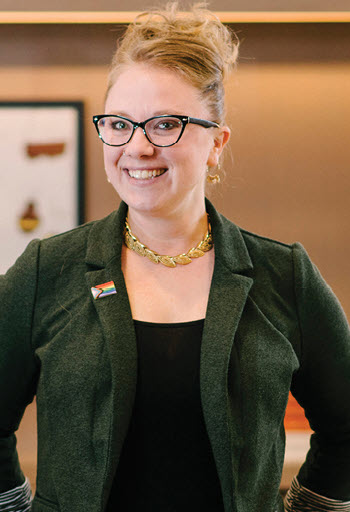 Heidi Duss
Founder and Chief Consultant
Culturescape Consulting

Heidi Duss is a Human Resources Leader who has built her career and expertise in the areas of diversity, equity and inclusion, organizational culture, and recruitment and talent management. She has worked with organizations of all sizes, from startups to Fortune Global 500 companies in recruitment, insurance, finance, technology, and marketing.
As the Founder and Chief Consultant of Culturescape Consulting, Heidi provides thought leadership, strategic planning and creative solutions to her clients that help foster more equitable and inclusive workplaces.
She is a Course Facilitator for Diversity, Equity and Inclusion Certification course at Cornell University.
Heidi received her Bachelor of Arts from the University of Wisconsin-Whitewater, along with a Certification in Human Resource Management.
She holds additional certifications in Leadership and Diversity Recruitment.
Heidi serves on the Board of Directors for OPEN – Out Professional Engagement Network and is actively involved in her community.
In 2019, she was awarded Advocate of the Year by the Wisconsin LGBT Chamber and was one of Brava Magazine's 2020 Women to Watch.
Heidi is a true believer that we should all be able bring our best and authentic selves to a workplace that champions safe spaces for all identities.
Additional Content
Available as a Playback
This playback is only available to logged in Unlimited and Unlimited+ Members.
Access Playback