CUES Executive Compensation Survey makes your job easier by providing insight, statistics and customizable reporting tools to help you attract and retain well qualified professionals.
Benchmark your organization against others based on asset size, region, membership size and more. Our online reports include data on 21 executive level positions, and our pre-existing compensation reports include:
Salary and bonus information
Benefits data per position, including:

Insurance plan type and cost
Retirement plan type and company contribution
Perks eligibility (paid parking, club memberships, etc.)
Employment contract details (length, renewal, severance pay, etc.)

Side-by-side, year-to-year comparison reports
Graphing tools
Exclusive content explaining compensation trends, including data reports
Invest in your credit union's success. Order 12-months of online access to the most reliable data the market has to offer today. Unlimited+ members receive the survey results as part of your membership benefits.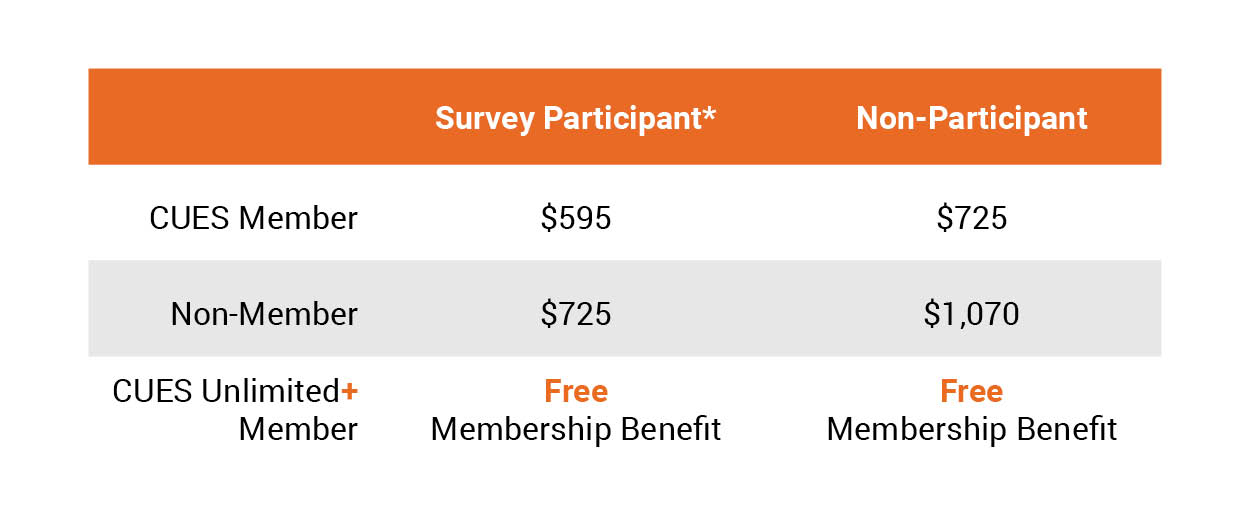 About Our Surveys
CUES compensation surveys and reports give you access to valuable compensation and benefits data from the credit union industry. The survey is delivered entirely online–from survey participation to reporting. CUES gathers data annually from credit unions of all assets sizes from around the United States.
FAQs
Below you'll find answers to the questions we get asked the most when considering our Surveys.
Interested in Purchasing at a Participant Price, Receiving a Demo, or Need Assistance?
Contact survey support by clicking the button below, calling 866.508.0744, or emailing surveysupport@cues.org. CUES Surveys are not applicable to Canadian credit unions. Consultants, please email us to purchase. Consultant Price: $3,995.
Two Valuable Resources
CUES Executive Compensation Survey is one of two resources CUES provides to support credit unions with their staffing needs. You may also like CUES Employee Salary Survey, which provides detailed and up-to-date salary information on dozens of non-executive credit union positions.
Together these resources offer such a comprehensive look at staffing for your credit union that we encourage you to purchase both and provide you a 20% discount for doing so. Call or email CUES for more information.
Access Employee Salary Survey