---
CEOs and board chairs must attend together, so please register them at the same time. If your board chair is unable to attend, you may bring your vice chair. Registration fees include your CEO and board chair, and are $3,700 for CUES member teams, or $5,550 for non-member teams. Canadian teams are $4,720 for CUES member teams, or $7,010 for non-member teams.
Additional registrants are $1,850 for CUES Members and $2,775 for non-members.
---
Create a Power Team
CUES Symposium is a unique conference that fortifies the partnership between your credit union's CEO and board chair. By attending together, the pair shares learning experiences and team-building opportunities, resulting in a powerful duo that works well together, ultimately strengthening your credit union.
This specialized event is highly interactive, providing opportunities for your CEO and chair to share ideas, problem solve, and develop plans ready to take home and implement immediately.

Synergy is vital at the top. Register your CEO and board chair for CUES Symposium today!
Registration includes:
All educational sessions and materials
A Welcome Reception on Sunday for attendees and their guest
Breakfast and refreshment breaks on Monday, Tuesday, Wednesday and Thursday
Register before December 10, 2020 to get the lowest rate!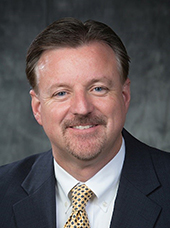 Andrews Federal Credit Union
asset size — $1.7 billion
I consider CUES Symposium a must-attend event—I've attended with my board chair annually since 2013. We both find the experience to be invaluable; it helps us work in synergy throughout the year, and the knowledge we acquire proves to be a tremendous benefit to our credit union. This event also offers a real sense of camaraderie; we greatly enjoy collaborating and networking with the other CEO/board chair teams.
Network with Your Peers
Symposium Attendees by Title
15

Attendees of CUES Symposium spend 15 hours learning with their peers.

16

You will earn up to 16 Continuing Professional Education credits for attending CUES Symposium.
Why Send Your CEO and Board Chair to CUES Symposium?
Your team will:
Come away working together as true partners, which will benefit your credit union for years to come
Work to develop plans which are set to go, ready to take home and implement immediately
Enjoy a bucket-list location, designed to help them get away from the day-to-day and focus on team building
Benefit from 16 and a half hours of learning and team building with scheduled time to network
Download the brochure
We are working on the 2021 brochure. You can download your copy of 2020 Symposium for reference.
Thank You to Our 2020 Sponsors
Platinum
Gold
Silver
Sponsorship Opportunities
Putting your organization in front of the credit union movement's top executives, directors, and future leaders will accelerate your sales performance. Explore all CUES' sponsorship opportunities today.
Agenda
The 2021 Symposium agenda is under development; here is a tentative schedule.
We are currently working on speakers for our 2021 event. Please check back later for more information.
Important Travel Information

Real Time Aruba Travel Requirements

Hotel
Hilton Aruba Caribbean Resort & Casino
J.E. Irausquin Blvd 81
Palm Beach, Aruba
+297.586.6555
Room Category
Room Rates
Bonaire/Curacao Towers,
Resort View, King Bed
$355

Bonaire/Curacao Towers,
Garden View, King Bed

$365
Bonaire/Curacao Towers,
Partial Ocean View, King Bed

$395
Bonaire/Curacao Towers,
Ocean View, King Bed

$445
Aruba Tower,
Partial Ocean View, King Bed

$425
Aruba Tower,
Partial Ocean View, 2 Queen Beds
$425

Aruba Tower,
Ocean View, King Bed


$495
Aruba Tower,
Ocean View, 2 Queen Beds
$495
Reservations can be made online. A limited number of sleeping rooms are available at the discounted CUES rates, expiring Wednesday, December 23, 2020. Prevailing rates may apply after this date or when the group rooms are sold out, whichever occurs first.

The hotel offers great amenities, discounted rates and the best networking opportunities available. Staying within CUES' room block will help keep registration prices down. Rooms are subject to availability.

Remember that all hotel arrangements are strictly between you and the hotel. In the event your flight is canceled, you are responsible for calling to cancel your room reservation.
Check in time is 4:00 p.m. and check out time is 12:00 noon.

A one-time Porterage charge of $5.00 will be added to your stay.

Tax Exemption Information
There is no tax exemption in Aruba


Air Travel
CUES conference participants may call Fox World Travel for airfare reservations at 888.691.9163 between 7:30 a.m. and 5:30 p.m. CST and reference Group Code 09FP4115. Please note that a ticket processing fee of $37 domestic or $46 international will be added. CUES does not offer a discounted rate, but Fox World Travel will ensure the best pricing available for U.S. residents.
Ground Transportation
Car Rental
Hertz is the official car rental company for this meeting. You can take advantage of their discounted rates by placing your reservation online at www.hertz.com or through the Hertz Meeting Sales Desk within the U.S. at 800-654-2240; from within Canada call 800-263-0600 refer to Meeting CV#02ZG0016.
CUES Safe Meeting Practices
With the current events surrounding COVID-19, we're making a conscious effort to protect our attendees. Our team is working tirelessly with our hotel partners to create safe and clean spaces for all.

Here is what we are doing:
No contact greetings: We recommend the use of non-physical contact methods, such as a greeting with a wave and a smile.
Physical space: The meeting room will be set with ample physical space between each attendee, adhering to physical distancing standards.
Sanitation stations: We will have plenty of hand sanitizer throughout the meeting rooms and event spaces, as well as disposable gloves for anyone that would like to use them.
Disinfect surfaces: The hotel has increased the frequency of disinfecting public spaces and meeting spaces, and has increased the cleaning standards of guest rooms to comply with the new COVID-19 requirements.
Masks: CUES will provide disposable masks daily for anyone that would like to use them.
Event scheduled food and beverage: CUES will work with the hotel to create a safe eating experience for all.
Paperless handouts: To minimize contact, please be aware that all handouts will be provided electronically. Each attendee is encouraged to bring their own laptop or tablet to the meeting.
Communication plans: CUES staff will continue to monitor the situation leading up to and at the event, and communicate any possible situation with the attendees. As part of their on-site planning, CUES staff will meet with the hotel's emergency operation and planning teams to ensure all staff are prepared for any situation that may arise.